Sofia Samatar awarded Madison Scholar Award
News
---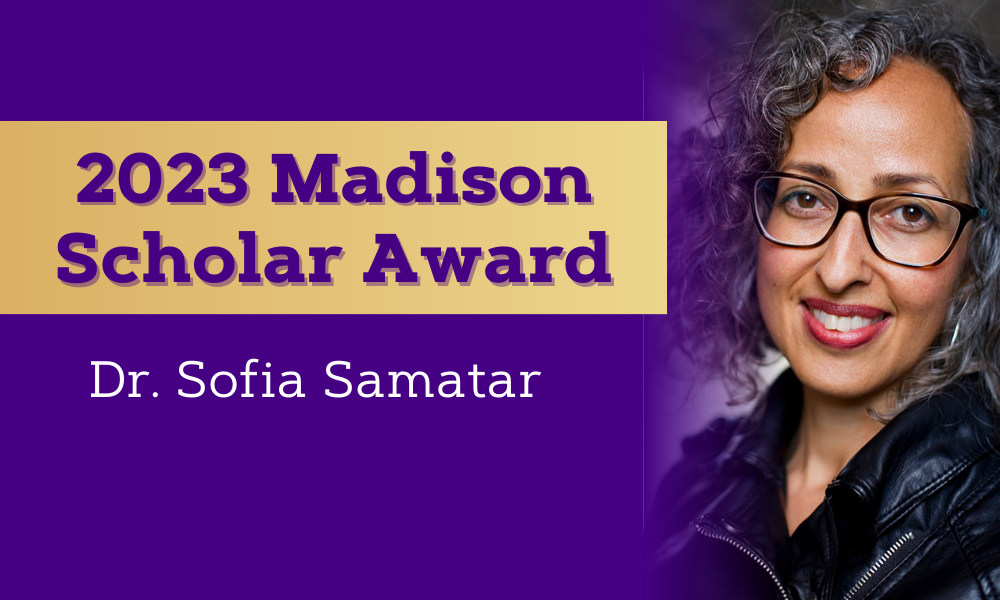 SUMMARY: Associate English professor Sofia Samatar is the 2023 College of Arts and Letters Madison Scholar Award recipient.
---
Each year, the College of Arts and Letters recognizes one faculty member for their record of outstanding scholarship, research, and/or creative work and its dissemination through publication, exhibition, performance or other means.
"The most rewarding aspect of my work is the way it allows me to mediate between different genres, publics, and fields [...] Ultimately, I see my work — both writing and teaching — as the creation of vibrant, productive contact zones."
— Sofia Samatar
This year's recipient of the 2023 College of Arts and Letters Madison Scholar Award is Sofia Samatar. Samatar is the author of six books: Tone (2023), The White Mosque (2022), Monster Portraits (2018), Tender: Stories (2017), The Winged Histories (2016), and A Stranger in Olondria (2013). Additionally, she has published numerous peer-reviewed articles, multiple book chapters and many essays and pieces of short fiction. 
Her works have been nominated and selected for many awards: finalist for PEN/Jean Stein Book Award, 2023; Bernard J. Brommel Award for Biography & Memior, 2023; finalist for the Calvino Prize, 2018; British Fantasy Award for Best Novel (the Robert Holdstock Award), 2014; Word Fantasy Award, 2014; William L. Crawford Award for Best Fantasy Debut, 2014. 
Samatar is an associate professor of English. She specializes in Arabic literature, African literature, world literature, transnational anglophone and postcolonial literature, Afrofuturism and speculative fiction.
Visit Samatar's website for more information on her publications: https://sofiasamatar.com/about/