News
Welcoming Dr. Becky Childs
JMU English's Department Head
---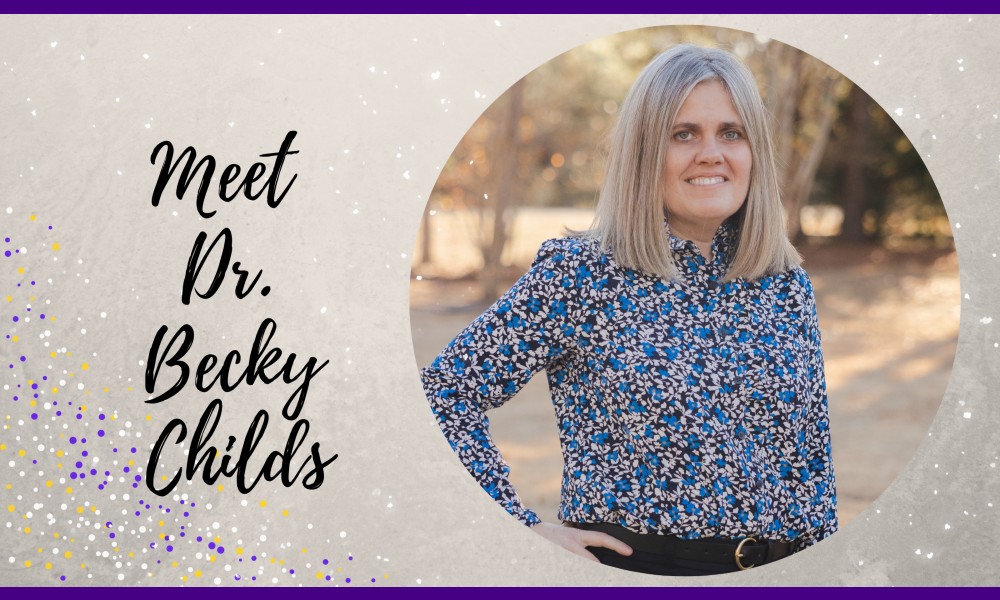 SUMMARY: Meet JMU English's new Department Head, Dr. Becky Childs
---
"You cannot, you cannot use someone else's fire. You can only use your own. And in order to do that, you must first be willing to believe that you have it."
— Audre Lorde
How would you describe your background? What lead you to English/Literature? 
I have a BA in English from the University of Florida, an MA in English with a focus on Sociolinguistics from NC State University, and PhD in Linguistics from the University of Georgia. 
During my undergraduate career, I became deeply interested in English Studies, specifically the ways that language use and practice, whether it is written, spoken, or signed, reflects facets of our identity. I then went on to graduate school to develop my interest and expertise in the study of social constructs that surround our use or performance of language (sociolinguistics), with a focus on dialects of English. As a result of this interest, my scholarly career has focused on developing an understanding the innate relationship between language and identity, especially in dialects of English that have been historically undervalued or understudied (African American English, Appalachian English, Southern English, Bahamian English, Newfoundland English). My research works to challenge the common assumptions and stereotypes surrounding dialects and their speakers and provide a more nuanced and intersectional lens for contextualizing English language variation in contemporary society. 
Why do you feel English majors are important, especially in today's world? 
An English major is so very valuable in today's world. English majors possess a powerful skill set that includes the ability to read carefully, the ability to think critically and creatively while considering multiple perspectives, the ability to write clearly and in a method appropriate for their intended audience, and the ability to research a topic deeply. These skills are in high demand in today's world where they can be applied to most any audience or topic or job field. 
"I see my role as an advocate, I am here to advocate for students and for the vitality of the English Department."  
— Dr. Becky Childs
What appealed to you about JMU? 
JMU is a university with dedicated and innovative faculty that are well-known for their excellence in teaching and research and their investment in the success of their students. This aligns with my goals as a teacher/scholar.    
On a personal level, I have spent a large part of my career working on ethnic varieties of English in Appalachia and JMU is in a perfect location for my research and in an area of Appalachia that has been historically understudied. 

What are names, works, books and professors that have inspired you (and why)? 
There are a number of works and people that inspire me. My mentor Walt Wolfram, a pioneer in the field of sociolinguistics and the study of dialects of English, has been a constant source of inspiration for me from his productivity to his dedication to the success of his students he has set a strong example for me of what a mentor of both colleagues and students should be.
Books that have inspired me include: English with an Accent, by Rosina Lippi Green, Appalachian Elegy- bell hooks, Their Eyes Were Watching God- Zora Neale Hurston
Each of these works uses of language, specifically dialect, as a means to explain, understand, and tell the story of people and places. 
Do you have favorite quotes, professional mottos or advice you'd like to share?
I have several favorite quotes. One that I have been circling back to lately and that has always been a favorite is this one by Audre Lorde "You cannot, you cannot use someone else's fire. You can only use your own. And in order to do that, you must first be willing to believe that you have it."
What are you most looking forward to in your new role with JMU English? 
I am looking forward to learning more about and meeting our students. Learning about them, their goals, their experiences and the ways that the department can help them to reach those goals. I am also looking forward to working with my colleagues in the English department, meeting and learning about their scholarly and creative works and teaching, their goals in their own work and for the department. Similarly, I am very excited to work with the staff in the department to help create a vibrant English community through our presence on campus and on social media.
How would you describe a department head's role to our students? 
I see my role as an advocate, I am here to advocate for students and for the vitality of the English Department. This means that I am considering the curriculum, the course schedule, that I am available for students to meet with when they have questions or concerns, and that I ensure that students are developing and growing as they progress through the major. My role is to also help cultivate and develop a sense of community for students, faculty and staff in the English department — to help us to develop, sustain, and grow in our identity as a group of learners with shared similar interests.
Please share a personal fact, memory, etc.
My first faculty job was in Newfoundland, Canada, at Memorial University where I taught courses in linguistics and researched Newfoundland English. Newfoundland English has been called the "most unique" dialect of English spoken in the world.
When I was an undergraduate, I was a rower on the crew team at the University of Florida.
A few favorite quotes that relate to my area of research and that express the ways that I view the scholarly work that I do are the following: "If structure is at the heart of language, then variation defines its soul." — Walt Wolfram
Another favorite quote — or actually a piece — is Toni Morrison's Nobel Prize speech from 1993 where she talks a lot about the transformative power of language and the ways in which it works as a tool, a tool that can be used for social work, social justice work. She says the following in that speech that I really hold close.
Be it grand or slender, burrowing, blasting, or refusing to sanctify; whether it laughs out loud or is a cry without an alphabet, the choice word, the chosen silence, unmolested language surges toward knowledge, not its destruction. But who does not know of literature banned because it is interrogative; discredited because it is critical; erased because alternate? And how many are outraged by the thought of a self-ravaged tongue?
Word-work is sublime, she thinks, because it is generative; it makes meaning that secures our difference, our human difference — the way in which we are like no other life.
We die. That may be the meaning of life. But we do language. That may be the measure of our lives.