News
English Major Perspectives: Thoughts on Unprecedented Times
Written by JMU English Students, For JMU English Students
---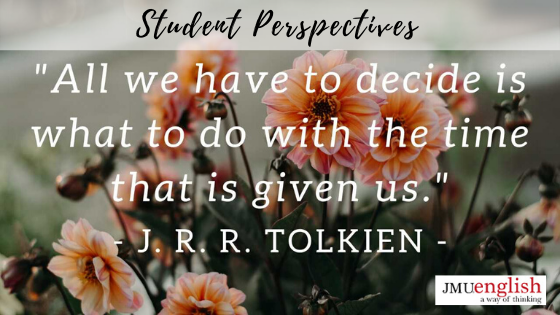 We are living in unprecedented times. Businesses and schools are closed, events like graduation and weddings are cancelled, and around the world people are practicing social distancing. For many of us students, our semesters were ended abruptly. We don't get to spend these beautiful Spring days on the quad, throwing a frisbee or passing a football with our friends. We don't get to meet with our professors and peers anymore to discuss the impact of the Victorian era or the beauty of Charles Dickens' writing. For seniors, your last semester at JMU was taken from you, and I cannot even imagine the pain that brings.
It is devastating, and as we adjust to online classes and this new reality, it is all too easy to get discouraged and lack motivation. Why would we want to finish strong when we are cooped up at home dealing with other heart-breaking matters, like sick family members and job loss? 
In this midst of all this uncertainty, I have once again found wise words in literature: "'I wish it need not have happened in my time,' said Frodo. 'So do I,' said Gandalf,' and so do all who live to see such times. But that is not for them to decide. All we have to decide is what to do with the time that is given us'" -J.R.R. Tolkien, The Fellowship of the Ring. 
While we have no control over our circumstances, we do have control over how we use this time. Teach yourself something new, like painting or piano. Read that novel you've been saving for warm summer days on the beach. Go on a hike and take comfort in the fact that while the whole world seems to be slowing down, the flowers that bloom around us are not. Find joy in the little things, and remember that although we are distanced physically, we can still stay connected to our friends and family. With the time we have left of our semester, let's finish well and honor the responsibility we have to learn. 
As American author Brian Herbert puts it, "The capacity to learn is a gift; the ability to learn is a skill; the willingness to learn is a choice." We have a choice set before us. I hope you will choose positivity and embrace the opportunity at our fingertips.