News
TFRE November 2021 Update
---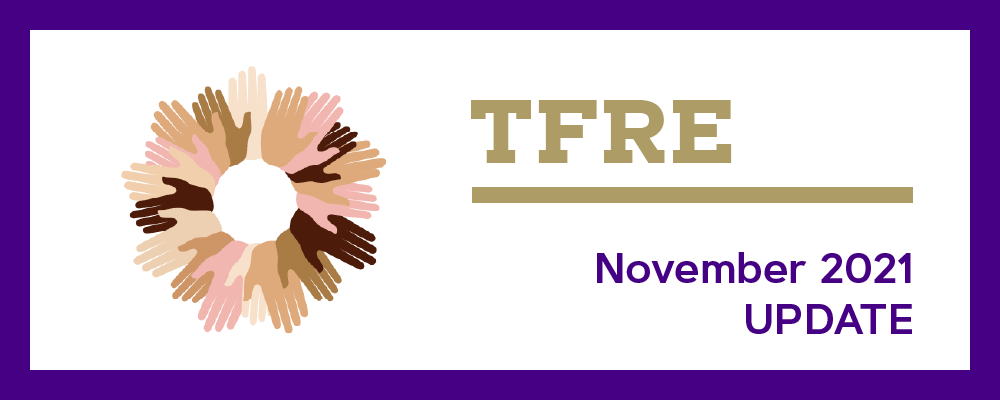 November 2021 Update
By the Numbers Update
Areas of Emphasis
Recommendation Highlights – A Sampling
Task Force Recurring Meeting Schedule
---
Recommendations:
By the Numbers Update:
Fifteen in the implementation phase
One at VP/senior leadership review and assignment (co-champion) phase
Ten under review by the Leadership Council and Task Force Co-Chairs
Several under consideration/development.
Areas of Emphasis:
Recommendations that create accountability, sustainability and increased communication include:
Required Faculty Syllabus Statement on DEI and Access
Leadership Messaging/Visibility of Expectation (Purchase Orders)
Marketing and Education Program for Procurement
Women and Minority Owned Business Connection
JMU Racial Equity Statement
Online DEI Personnel Org Chart
Recommendations focused on student recruitment include:
Create PreK-12 Youth Program Directory
Mobile App for Students of Color/Grad Students
Increase Diverse Images and Language on PreK-12 Outreach
Admissions Outreach to Local Pre-College Students, Pre-College Outreach Programming
Recommendations that create support systems include:
Creating Faculty Mentoring Networks for Equity Support
TRHT Conference and Campus Center
Recommendation Highlights – A Sampling:
Update - DEI personnel Organization Chart: One of the first recommendations, the DEI Personnel Org Chart is designed to highlight the DEI leadership across the University, including who and how to access them and the appropriate person. Rick Larson was the implementation Co-Champion that assisted in completing this recommendation. This valuable website is housed on the AVP for HR's website and may also be accessed from the TFRE website. All feedback to improve this website is welcome. Please email Rick Larson.
Update - Women and Minority Business Forum – In process – Procurement Services has hired All About Presentations a small, woman-owned, and minority-owned business Event Management firm to assist in the planning of the event. As reported previously, the event is planned for May 17, 2022, registration opens in February.  Planning of agenda, speakers, event website details, etc. is on-going. Contact Katie Weaver for more information.
Increase diverse images and language on PreK-12 youth programs especially on social media platforms: In process - Mary-Hope Vass, Director of Communications, was assigned as the implementation Co-Champion.  She shared the idea with JMU's communication council in Oct 2021. This is an organization made up of over 125 JMU communication leaders, focused on elevating JMU in their area of expertise and have contact with the majority of people promoting any summer programs. The goal is that the members of the council will share with their departments an increased awareness of imagery to ensure that diversity is represented as much as possible. The conversation will be elevated annually to the communication council.
Mentoring Champions: In Implementation - Gilpatrick Hornsby is serving as the Implementation/Administrative Co-Champ for the Mentoring recommendation. Dr. David Owusu-Ansah is serving as the working group Co-Champion. He has been asked to form a Mentoring Collective Working Group, with members nominated by each of the 7 academic deans, and the Libraries dean.
To submit an idea for a recommendation email: racialequitytaskforce@jmu.edu
---
Task Force Leadership
This fall the TFRE welcomed the following new members:
New Co-Chair Team Member: Brent Lewis
New Leadership Council Members: Carrie Combs, Daerenz Lyons and Towana Moore
New Alumni Working Group Co-Chair: Conner Webb
New Working Group Student Members:
Student Co-Curricular Life: Ginger Barbour, Jessani Collier, Deaquan Nichols and Tyler Jones
Awareness and Communication: Kylie Mirabella
For a complete listing of TFRE membership, visit the Task Force on Racial Equity page.
Co-Champions leadership role:
Co-Champions are a new TFRE role that facilitate the implementation of recommendations.  When a recommendation is developed, the working group designates one member to serve as a co-champion. When a vice president has been assigned responsibility for a recommendation, they are asked to select an administrative co-champion. The two co-champions team to provide direct communication, create a shared understanding of the recommendation and to assist in awareness, accountability and partnership in moving the recommendation to implementation.
---
Task Force Recurring Meeting Schedule
Meeting Schedule:
Leadership Council meets monthly.
Leadership Council and Working Group Co-Chairs meet monthly.
Co-Chair team meets at least three times per week to solve, navigate and assist with needs of the Task Force.
Co-Chairs present an update to the JMU cabinet monthly.
BOV Presentations:
For each BOV meeting since Nov. 2020, one of the members of the Co-Chair team has presented a DEI update and an update about the work of the TFRE.
Rudy Molina will provide the update at the Nov. 19th board meeting.