News
TFRE September 2021 Update
---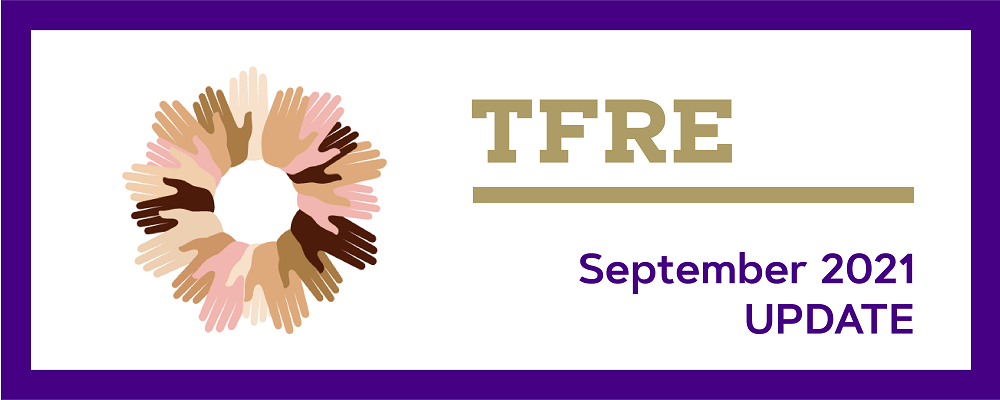 The Narrative Project
The TFRE is teaming with JMU's Institute for Constructive Advocacy and Dialogue to create a JMU Narrative on Race. This working document is being collaboratively curated to offer a rich and deep recounting and acknowledgement of the racial landscape at JMU.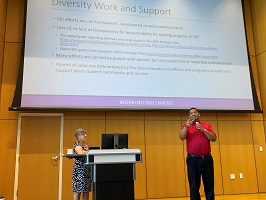 Narratives are repeated stories or discourse that help people make sense of the world and frame events in particular ways.​ Understanding how people at and associated with JMU make sense of race and their own and others experiences of race can provide a multi-voiced, nuanced recounting and acknowledgement of what is. ​
Narratives can be fragmented, or even contradictory, especially in large organizations due to the way that information circulates.​ However, all of the pieces, whether they fit together neatly or not, can provide us with a broader view, beyond the limits of our own experience. This broader and deeper view can reveal areas of priority and motivate and sustain capacity to create and implement initiatives that will lead to transformative change.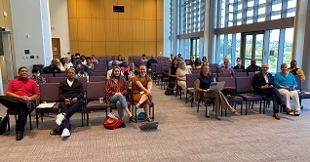 To date three narrative sessions have been held. Emerging themes have included:
Overall Structures and Culture
Diversity Work and Support
Recruitment and Retention: Students and Employees
Experience: Faculty, Staff and Students
Curriculum, Classrooms and Student Success
The working purpose of this narrative is to establish a collective understanding of the racial lived experiences and utilize the information and insight gained in the data and perspective collection process to empower the members of the TFRE, specifically the Working Groups, to write recommendations and proposals that address the barriers and inequities at JMU. 
---
Implementing TFRE Recommendations:
Utilizing the TFRE recommendation process, that includes a comprehensive exploration of a recommendation from working group through implementation, several recommendations are in the final implementation stage. Implementation of a recommendation is facilitated by a working group champion and an implementation champion. Recommendations currently in the implementation phase include:
University DEI Personnel Org Chart
Glossary of Racial Equity Terms
Women and Minority Owned Business Connection
The University DEI Personnel Org Chart: The Awareness and Communications Working Group put forth a recommendation for Developing an Online DEI Personnel Org Chart. The champions for the recommendation were Karen Risch Mott from the working group and Rick Larson for implementation. The recommendation has now been fully implemented.
The Diversity, Equity and Inclusion Personnel webpage is a centralized resource to help the JMU community learn about the organizational structures that support progress toward improved racial equity. Contact information is provided by department and personnel for each division. DEI personnel information includes their position title, role description and contact information.
This valuable website can also be access from the TFRE website. All feedback to improve this website is welcome. Please email Rick Larson.
Glossary of Racial Equity Terms: The Awareness and Communications Working Group also advanced a recommendation for JMU to utilize a glossary of racial equity terms. The glossary would empower all units across campus to distribute written messages about race that are consistent, accurate and up to date. Racial Equity Tools, a reputable group that supports groups working to achieve racial equity at every level, has created a comprehensive glossary consisting of 63 different terms: Racial Equity Tools Glossary.  All terms contain detailed definitions, use cases and examples, and each is properly sourced.  
Khalil Garriott is the working group champion, Yasmeen Shorish is the implementation champion. It is the hope of the TFRE that the glossary will be adopted and available on relevant diversity webpages across campus. The glossary is available on the TFRE website.
Women and Minority Owned Business Connection: The Economic Engagement Working Group recommendation for a women and minority owned business connection is in the implementation phase.  The connection titled "Pulling Back the Curtain on Supplier Opportunities: Discover, Develop, Grow" is planned for Tuesday, May 17, 2022.  All About Presentations (AAP), a small, woman-owned, and minority owned, Virginia based, event planning firm has been engaged to assist.  Demi Friend, a recent JMU graduate / Alum, an employee of AAP is our Production Assistant for the event, and we're excited to have someone with a real passion for JMU involved. 
Registrants will receive video based learnings, pre-event, and we're working hard to build a robust selection of sessions and networking opportunities for the suppliers for the in-person activities.   The event will provide opportunities for suppliers to understand JMU processes and engage with JMU Buyers as well as a variety of decision makers.  It will also include opportunities to engage with a variety of JMU Prime Contractors, for sub-contracting opportunities. 
Event registration is planned to be available by February 2022.  Until then, stay abreast of supplier opportunities and events by following the JMU Procurement Services Facebook Page or specifically through the Solicitation Opportunities page. 
The University's supplier diversity initiative, or "SWaM program" is intended to support certified small, women-owned, and minority-owned (SWaM) businesses.  We know that these businesses are the backbone of our state and local economy, and are the engine of innovation and job growth.  Supporting these firms is shown to positively impact the communities they are in.  Diverse businesses, specifically, often are more willing to hire diverse workers; studies suggest these firms are positioned to help reduce the high rates of unemployment in minority communities.  The program directly supports the overall University mission and upholds values such as community, diversity, excellence, and integrity.
This recommendation is championed by Katie Weaver from the working group and Towana Moore for implementation.