News
CS Faculty Teaching with Discord
---

In spring of 2020 when we all switched to online teaching, our CS faculty adopted a range of software tools to facilitate distance learning. Dr. Bowers and Dr. Lam started using Open Broadcaster Software (OBS) to record their lectures and stream them on Twitch. Dr. Weikle began holding socially-distanced tailgate office hours in the ISAT/CS parking lot. We all joined Microsoft Teams so we could have some place to replicate the hallway chats and pop-in conversations that are foundational to our department. And Dr. Mayfield set up a Discord server to teach his CS 159 course.
While Discord was originally designed for the gaming community, it has recently emerged as a much more flexible workspace for all sorts of communities—from book clubs and karaoke nights, to college courses and academic conferences. It supports real-time and asynchronous chat, video chat with up to 25 people, screen sharing with up to 50, and voice-only chat rooms for up to 5,000.
Zoom is still a staple for online JMU courses, but Dr. Mayfield found Discord offers some compelling benefits for online instruction: namely multiple screen sharing options. Discord makes it easy for both the professor and the students to share their screen at the same time. And unlike Zoom, where one shared screen takes over the entire window, students click to be able to view the screen they want, which adds a more interactive and egalitarian experience. And perhaps most compelling for those of us sick of saying, "You're muted" in Zoom meeting: Discord tells you if your audio isn't working.
One of the benefits Dr. Mayfield was most excited about is that "the interface itself helps build a sense of community." Discord makes it easy to see who is currently online, which helps students feel less isolated and makes it easier to strike up a conversation with others outside of class. The left panel shows the text and voice channels where the class discussions take place. Students can see who is connected to each channel, as opposed to being assigned to a breakout room isolated from the rest of the class. They can also see how many are in the waiting room during office hours, and – like in the pre-pandemic days when students lined the hallways – while they wait for the professor, they can chat with their classmates.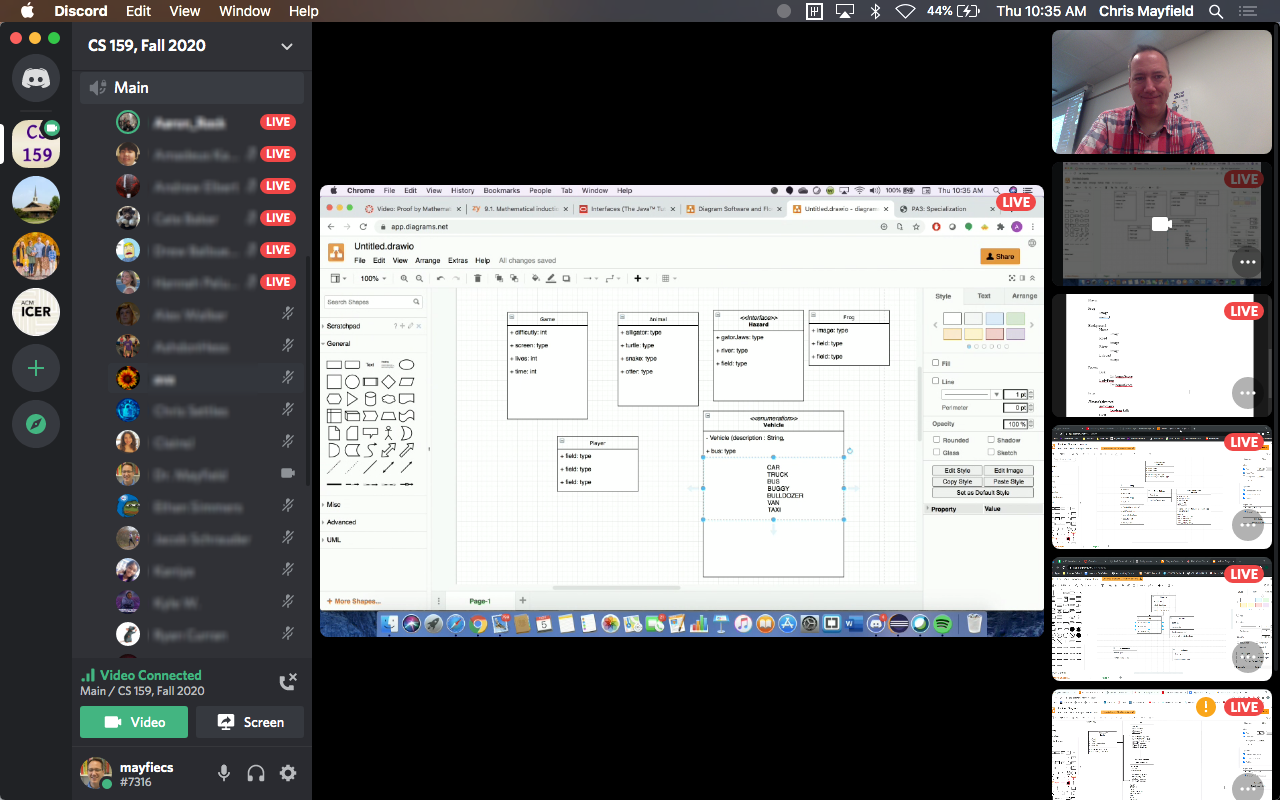 Discord also has the advantage of being a tool many students already use. Lynda Nguyen, who was in Dr. Mayfield's course in the Fall said, "I loved using Discord for class. I use Discord almost every day for my social interactions – like playing games with my friends. I think what it did well was the ability to keep conversations on past homeworks for people to look up. I would prefer it if all my classes were through Discord, since it is something I always use and check continuously throughout the day!"
While faculty might be concerned about adding yet another tool to facilitate online learning, Discord also has the advantage of being a single location for all course content. Matt Jensen said, "It was very nice to have one specific place where you could find pretty much everything: announcements, messages, office hours, questions/answers to specific problems, etc. It also made group work very easy as he set up multiple "tables" and then additionally we could make group chats right in Discord as well. Overall, this has been my favorite application for virtual leaning so far."
"One of the reasons Discord works so well is because it helps students to be more active during class," Dr. Mayfield explained. "Students move themselves between the main channel and their team channel. They click to view screen shares from me and their peers during class discussions. As the instructor, I can quickly move from team to team to check in with them. And it's fast—as soon as I click on a team, I can immediately hear and see what they are discussing. This was a huge improvement over Zoom, which took up to 5 seconds to switch between breakout rooms. Discord also made it possible for students to interact with other teams at times when they were ready, as opposed to having all their interactions managed by the instructor."