News
CS students win big at conference
---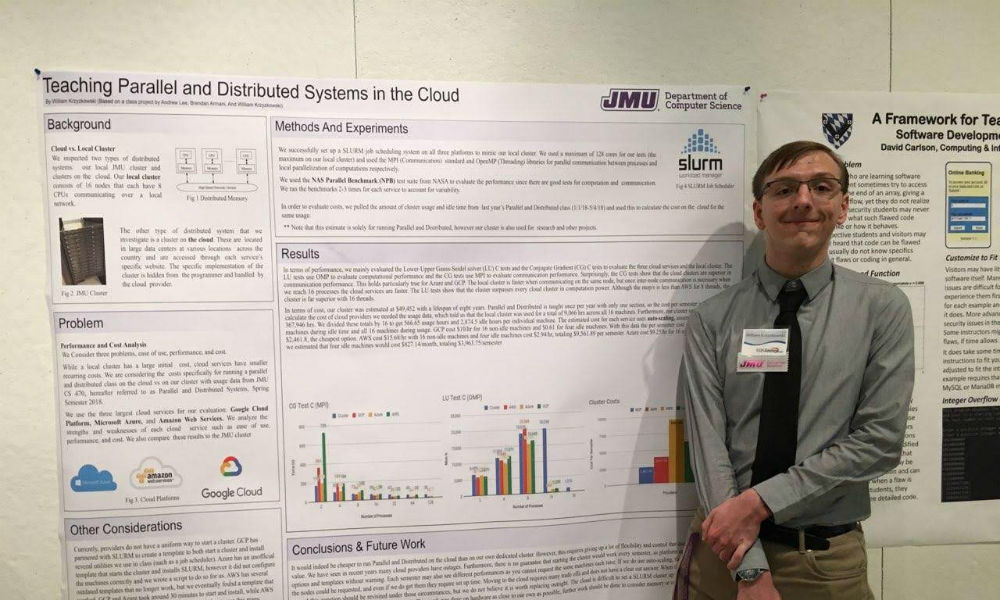 SUMMARY: The JMU Computer Science Department sent two teams to a major regional competitive programming competition. Both came home winners.
---
By Lianne Boxley, CISE student writer
Senior computer science majors Charlie Hines and Eric Wolf, brought home a first-place finish, while Austin Lam, Christian Fuller, and Cameron Bauserman – placed fourth at the recent Consortium for Computing Sciences in Colleges (CCSC) Eastern Regional Conference held on October 25-26 in Moon Township, PA.
The competition included roughly twenty undergraduate teams and challenged students to solve eight programming problems in five hours. With just one computer available for each group, students had to collaborate with their teammates and work well under pressure in order to succeed. The time-sensitive nature of competitive programming mimics the environment students may encounter in the job-hunting process, preparing them for their future careers.
"Programming competitions are really helpful for technical interviews. Sometimes when you're looking for a job, employers will give you a problem and expect you to write up a solution on a whiteboard. So, it's just really good practice for that," says Hines.
Senior computer science major, Will Krzyzkowski, won first place for his poster titled "Teaching Parallel and Distributed Systems in the Cloud." The poster was a continuation of the research he completed with Andrew Lee and Brendan Armani ('19) in the spring 2019 Parallel and Distributed Systems course. "That was kinda cool to be recognized among my peers," boasts Krzyzkowski. "That felt good. I was proud."
Computer science professor Mike Lam, who teaches the Parallel and Distributed Systems course, was also excited by Will's win. "Will's group was one of the best project teams from CS 470 last spring. They did a ton of work and surmounted a lot of technical and administrative hurdles. I was very happy that he was able to get some recognition for this by getting the poster published at a peer-reviewed venue."
CCSC is an annual conference that supports computer science education through panels, workshops, poster contests, and a competitive programming competition.