News
Computer science students participate in diversity celebration
---
By: Lianne Boxley, CISE student writer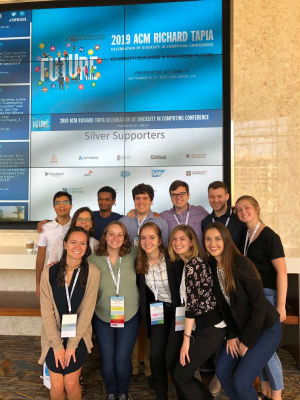 The tech world has accomplished many feats, but one of the biggest challenges the industry still faces is its lack of diversity. The JMU computer science department aimed to challenge this notion by sending nine students to San Diego, CA, to attend the 2019 Tapia Conference, a "diversity celebration" dedicated to providing educational and networking opportunities for students from diverse backgrounds.
The three-day conference featured panels, workshops, plenary speakers, and a career fair where students connected with over 800 students from 250 universities across the nation. Students began their day with a keynote speech from diverse leaders in tech and attended sessions of their choice. With over 30 different panels and workshops offered daily, each student attended sessions that matched their interests.
I learned that there are so many ways to do computer science, and everyone has a different perspective," says senior computer science major Courtenay Taylor. "I was able to talk to people about my interests in systems and computer science education, as well as learn how people from different schools and in different areas of the country think and approach problems.
Senior computer science major, Cindy Zastudil, attended workshops related to her field of interest. "I received a hands-on tutorial on how to eliminate bias from machine learning models and learned how to use artificial intelligence to detect cancer. I'm considering grad school, so [getting] to see a lot of the research areas within computer science was really interesting to me.
Another highlight of the Tapia Conference was the career fair. Students were able to connect with recruiters from over 100 organizations, participate in resume and graduate school application reviews, and learn about research from members of national research labs.
Attending the conference is really helpful in pursuing research and looking outside of the classroom for learning opportunities as well as career opportunities," explains Zastudil. "The cool thing about [the conference] being in San Diego this year was that there were a lot of companies that were on the West Coast that don't normally come to the East Coast, the big ones being Microsoft and Google, but there were also some research labs.
The JMU computer science department generously provided scholarships for students to attend the conference. The scholarships covered food, airfare, housing, and registration costs, ensuring that celebrating diversity causes no financial burden. "We do have students who are in underrepresented groups […] and it's good for them to hear about ways that they are supported," says computer science department head Sharon Simmons. "For those who are not in an underrepresented group, I think it's also important for them to go [to the conference] to realize the issues that others face and to be allies.
Published: Wednesday, November 6, 2019
Last Updated: Thursday, November 7, 2019