News
Setting SMART Goals
---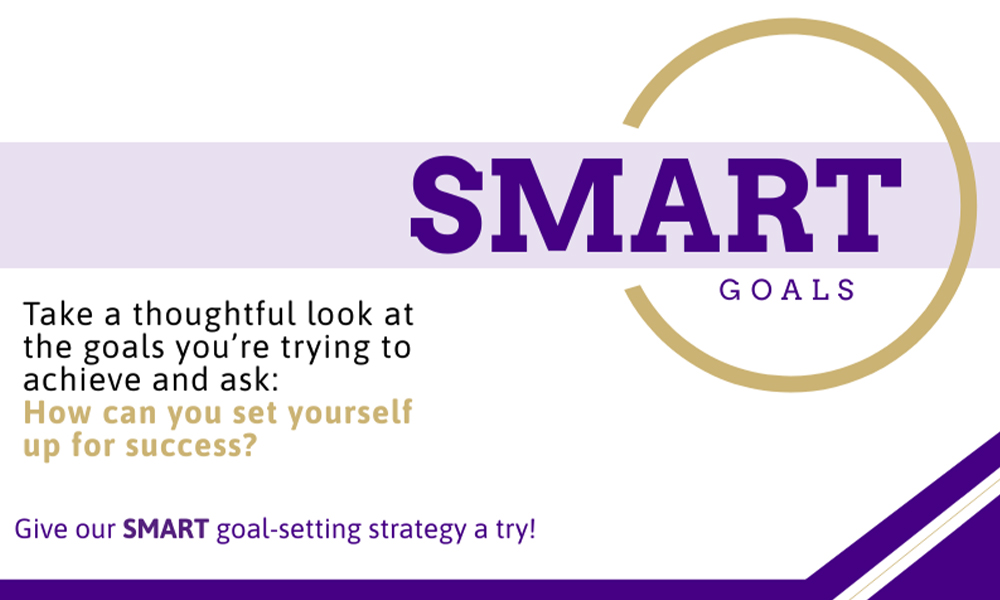 ---
 Feeling anxious about getting everything done? Struggling to feel motivated? Maybe even feeling down on yourself for not following through on all your ideas and projects?
You're not alone! With social distancing and increased time at home, there's a new pressure to be productive. That might look like wanting to learn a new skill, prioritizing physical health, reaching out to friends and family, creating something new, finding a cool hobby, and the list goes on!
Maybe you're feeling stressed and discouraged by how difficult it can be to work on all of these goals that you've set for yourself. Remember, the problem is NOT you. 
Take a thoughtful look at the goals you're trying to achieve and ask: How can you set yourself up for success? Give this "SMART" goal-setting strategy a try!
Set SMART goals:
S – Is your goal specific enough? Avoid broad, vague goals like, "I'll eat healthier" or "I want to do better in school." Instead, identify what exactly you want to do. Examples might be, "I will prepare 2 meals at home each day, instead of eating out" or "I will use a planner to keep track of my school assignments and projects for the rest of the semester."
M – How will you measure your progress? It's easy to want to give up on a goal when you can't see the progress you're making. Find concrete ways to measure your steps forward, such as using a calendar or to-do list, keeping a journal, or using an app that will track progress for you.
A – Is your goal clearly achievable? Setting realistic goals is important so that you aren't setting yourself up for disappointment when you can't reach an impossible goal. For example, instead of saying, "I will write a best-selling novel this semester," try something like, "I will write an outline and first draft for my future novel this semester." 
R – How is your goal relevant to you? It can be easy to feel like we need to choose goals based on what other people are telling us to do. Try to set goals that are important to you and clarify what is your motivation and drive to achieve this particular goal.
T – What is the timeline for this goal? Generally, shorter-term goals are easier to stay focused on and feel more manageable. Without a time limit, it becomes too easy to keep pushing your goal off until you forget about it entirely! Plus, how can you make space for new goals if you never wrap up with current ones?
Thanks for reading! We hope that this strategy can take some of the anxiety out of this stressful time and maybe even inspire some motivation to set your own SMART goals!
---