Communication Center adapts to COVID-19
News
---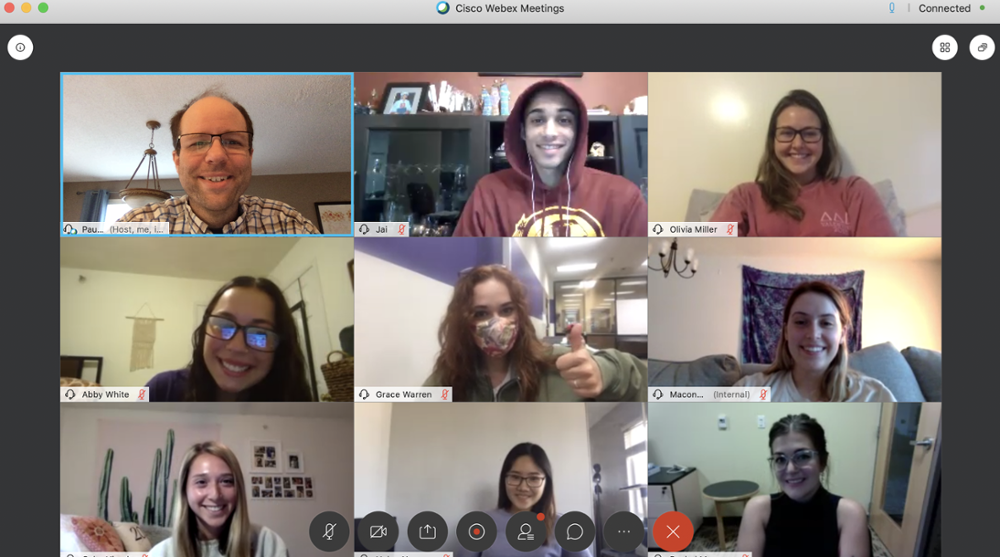 JMU Communication Center students and faculty work hard to make sure that they are bringing the best for JMU students.
We all know that this semester started in a way that none of us expected, and we are trying our best to get used to the situation. Online learning can be tiring for both students and faculty; technological difficulties, endless distractions, and lack of motivation are all stressful factors of online classes. However, at the Communication Center, our consultants and faculty are doing their best to help JMU students by offering personalized sessions for both individuals and groups. Students will have a private session from 30 minutes to an hour with a consultant for any of their needs. They can count on us for presentation support, brainstorming a speech, interview skills development, SCOM test preparation, and any other fields that are relevant to Communication.
This semester, the Communication Center has seven tutors, two graduate assistants, and one faculty. Ten people with different perspectives of tutoring, but we all have the same mission. At the Communication Center, we want to create a space where individuals feel comfortable to develop and experiment with communication knowledge, attitudes, and behavior while the tutors have the opportunity to make meaningful educational, professional, academic, and communal contributions.
We also welcomed our new graduate assistant Macon Thompson as a part of the team this semester. Thompson studied Integrated Science and Technology as an undergraduate student and is currently undergoing the Communication and Advocacy Master's program. As a tutor, she enjoys spending half of her time teaching and learning about what her students know and what they consider to be a challenge. A lot of her work at the Communication Center, aside from tutoring, is also focusing on helping students with any difficulties they are having, especially in the situation when students are attending college during a global pandemic. With us being online, the first projects she has been working on have focused on helping freshmen adapt to online classes by making a "Zoom University" tip sheet with a list of things to help them succeed in an online learning environment. The second project she has been working on is a tip sheet for how to give a virtual presentation.
"I like working at the Communication Center. Everyone is so nice and helpful and although we are physically distant, it is nice having coworkers who are in the same boat," said consultant Macon Thompson. "I also really like the student appointments I have had so far! It is fun knowing creative ideas and seeing the passions and personal experiences come to life as students come to the center preparing for their speeches."
Dr. Paul Mabrey, Communication Center Coordinator, mentioned earlier in a meeting his expectations and other upcoming plans for tutoring online if we continue to study online. He expressed his satisfaction with communication consultants and hopes that JMU students can rely on us for any academic advice.
"Like many, I was and am still anxious about the expectations we have for each other and ourselves right now," said Dr. Mabrey. "But I have been nothing but impressed by the persistence, patience, and grace extended by many JMU students, especially the peer educators at the Communication Center."