News
Chris Horton & Ellie Miller Alum Profile
---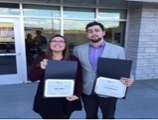 This week we will continue our series of learning from past tutors and how their experience, skills and values learned at the Communication Center can be applied to their current job. We talked to both Ellie Miller and Chris Horton, both excellent tutors and friends, about their experience.
First, we will begin with Chris…
I graduated May 2016 with a BS in Intelligence Analysis. I worked at the Comm Center for 3 years/semesters. I had a great experience. My favorite things were my co-workers, having the time and settings to develop my skills, and having the opportunities to do so many different things. The openness of the center allowed me to find things I wanted to do to improve the center or our services. The time I had to build my made me comfortable handling new or complicated challenges. The great people I met working at the center made all of this professional development fun too. The variety of projects and very nature of taking Comm center consultations greatly strengthened my communication, critical thinking, and project management skills.
This led me to the career I've started at the General Services Administration. I've been hired to become a Project Manager. PMs act as a broker between client agencies and contractors to draft requirements, evaluation proposals, and monitor performance of major complex IT and professional service acquisitions. When I'm not in meetings, where I listen for possible issues to make sure everybody is on track to meet goals, I'm looking over spreadsheets and data. This has been a natural transition from the consultations and research for the Comm Center I often referenced in job interviews.
And a little about Ellie's experience…
I was a tutor at the communication center for 3 semesters. While this was not long enough in my opinion, and I wish I could've worked at the center all my time at JMU, my work there was extremely rewarding! I loved working with groups in their speech preparation and helping them develop strong speeches and presentations. I always thought this portion of the speech lifecycle was most interesting and also most important. By working with students early on, I was able to help them develop a strong and effective foundation for their speeches. My work at the center set me up perfectly for my current career in higher education as a research associate at the Education Advisory Board company in Washington, D.C. Being able to work with different groups of people and practice problem-solution skills has prepared me for my current role by giving me strong teamwork skills and strong adaptation skills. Additionally, the data and research focus fostered at the center helped me develop a stronger research background that allows me to excel at my job.