College of Education
Words from the Dean
---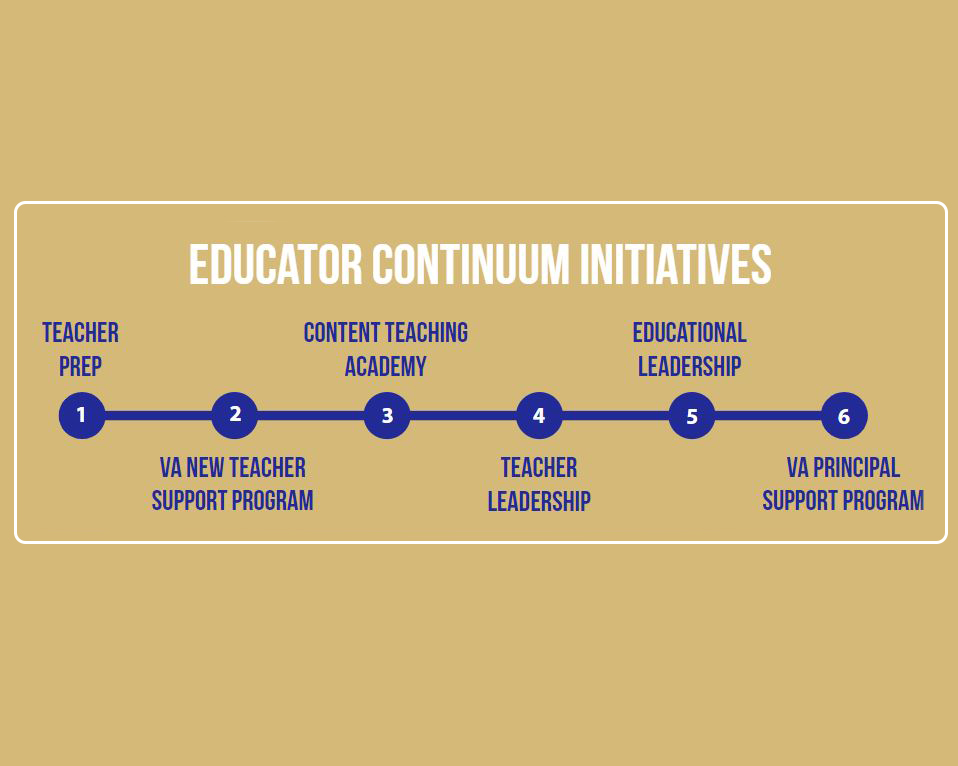 SUMMARY: Dean L'Esperance from the College of Education provides updates on various initiatives
---
I hope all is well and your semester has gotten off to a great start.
The following is an update related to a number of initiatives that the College of Education is currently involved in this year. We believe as a college, that a major part of our mission is to partner with the Commonwealth of Virginia's public school system in multiple ways to ensure that each student is learning in the most conducive environment possible. Each of the initiatives are connected as part of an intentional engagement framework. This intentionality is our commitment to educational justice. The initiatives include:
The Virginia New Teacher Support Program (VaNTSP) serves teachers from school divisions that represent urban and rural areas challenged with teacher retention. The program focuses on training Teacher Leaders/Instructional Coaches in participating school districts to provide instructional coaching for early career teachers. The participants receive training in evidence-based coaching focused on planning, instruction, and assessment. JMU partners with the VDOE, Virginia State University, and over 43 school divisions. Participants include close to 1500 1st, 2nd, or 3rd year teachers along with 150 coaches as we begin our second year of implementation.
The JMU College of Education and the Virginia Community College System are committed to addressing the growing teacher shortage through a "Grow Your Own" initiative, a nationally recognized strategy related to recruitment and retention.   Grow Your Own is aligned to the commitment of intentionally addressing diversity, equity, and inclusion, by specifically creating pathways to increase access to quality teacher education, especially in low-wealth communities.  Intentional recruitment and retention of teacher candidates from diverse geographic and demographic areas is a key strategy designed to enhance access and attainment. We are hoping that the inaugural cohorts will begin the fall semester of 2022.
The Teacher Leadership Graduate Certificate - The mission of the certificate program in Teacher Leadership in the College of Education is to advance the teaching profession with education professionals who have a deep understanding and application of leadership in instruction, mentoring/coaching, policy, advocacy, and professional associations. Over 100 teachers are participating in this second year program.
The Virginia Principal Support Program (VAPSP) is created to be part of the solution for supporting principal leadership. James Madison University and the VDOE will work together and form strong partnerships with school divisions across the state to engage in reciprocal collaboration. These partnerships are intended to form a bridge of communication connecting university researchers and school leader practitioners in developing customized learning experiences for school principals, as well as provide helpful insight to improve university pre-service programming efforts. Over 60 individuals and multiple school divisions are participating in this pilot year.
The Content Teaching Academy (CTA) is a professional development program for in-service teachers. The CTA served over 600 teachers this summer in a variety of topics. The programs (Academies) offer high-quality professional development that include in-depth studies in a range of content areas. In addition, each component of the CTA is designed to engage participants in critical dialogues of practice with instructional sessions conducted by scholars and master teachers who understand the challenges associated with today's classroom.
Sincerely,
Mark L'Esperance Ph.D.
Professor of Education and Dean
College of Education
James Madison University