College of Education
Loudoun County names Meghan Osborne ('19, '20M) New Secondary Teacher of the Year
---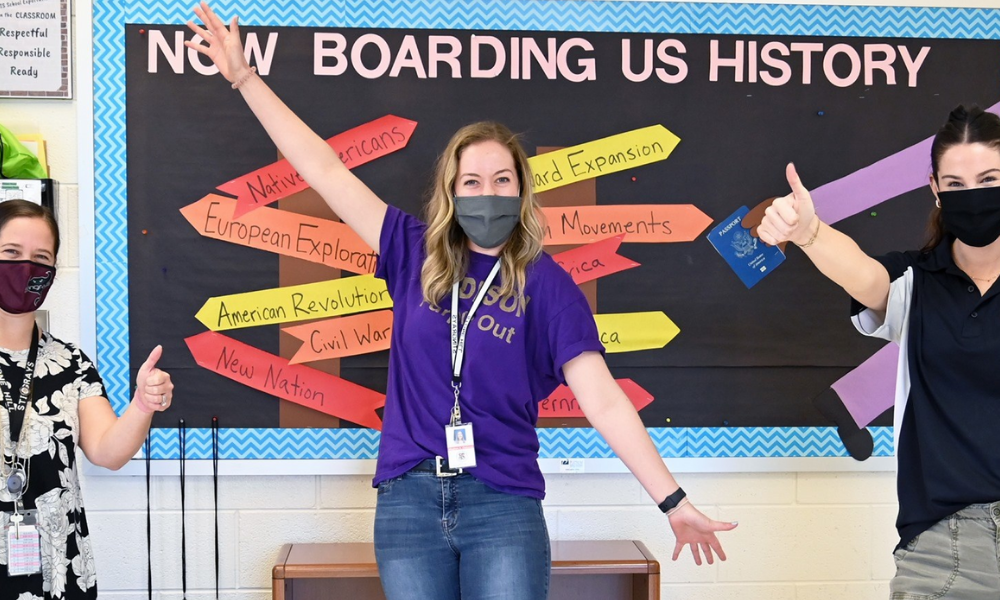 SUMMARY: Loudoun County, VA has named sixth grade teacher at Stone Hill Middle School, Meghan Osborne ('19, '20M) "New Secondary Teacher of the Year."
---
Stone Hill Middle School in Loudoun County loves their students. The school loves it even more when their students come back as teachers! Meghan Osbourne (19, '20M) is proof positive of that, as she was recently named First Year Teacher of the Year at the same middle school she attended in her younger years.
Osbourne initially chose James Madison University because her aunt had studied here and enjoyed it so much. She knew as soon as she set foot on campus that this was the place for her. Additionally, she was eager to earn her master's degree within 5 years.
Dr. Dana Haraway and Dr. Kristi Doubet were both instrumental in her development as a teacher. Osborne says Dr. Haraway always showed concern for her and her classmates as people rather than just students in the classroom. She frequently checked in with the class to talk about what was going on in their lives and how that impacted their learning. That mindset has proven to be particularly impactful during this time when the relationships between teachers and students have been much harder to build.
A project that Osborne did for Dr. Doubet's class has also been quite valuable in her career. She created a classroom management portfolio that included resources and ideas for how to set up a classroom and how to manage the day-to-day responsibilities. In a year where not much has seemed normal, Osborne claims it has been very helpful to refer back to that resource for ideas as things have changed.
Osborne, who teaches sixth grade history, started the year teaching 100% virtually and has just recently transitioned to offering in-person learning to students who opted in. Sixth grade is a pivotal middle school year when students often shift from having one teacher to having eight. Managing that transition without having students in the building was certainly a hurdle this year. Osbourne used memes, videos, and digital scavenger hunts to help her students feel a part of the classroom even if they could not physically be there.
Being a part of something great and building relationships have always been important to Osborne. She still participates in a GroupMe chat that was started her sophomore year. She keeps in touch with her former professors through Facebook and Twitter. Being able to reach out to friends and like-minded colleagues for help and advice is critical. "Teaching is not a one-person job. Teamwork is so important,"; says Osborne. "Teachers love to share their work!"
When she is not in the classroom, Osborne loves hanging out with friends, playing adult-league volleyball, competing in trivia night and hiking. She advises others who want to become teachers to get into a classroom as soon as possible. "Volunteer through a community organization, be diligent in your practicum and student-teaching placements. More exposure makes you more confident. The more I did it, the less intimidated I felt," she says.