64th Beta Gamma Sigma induction
News
---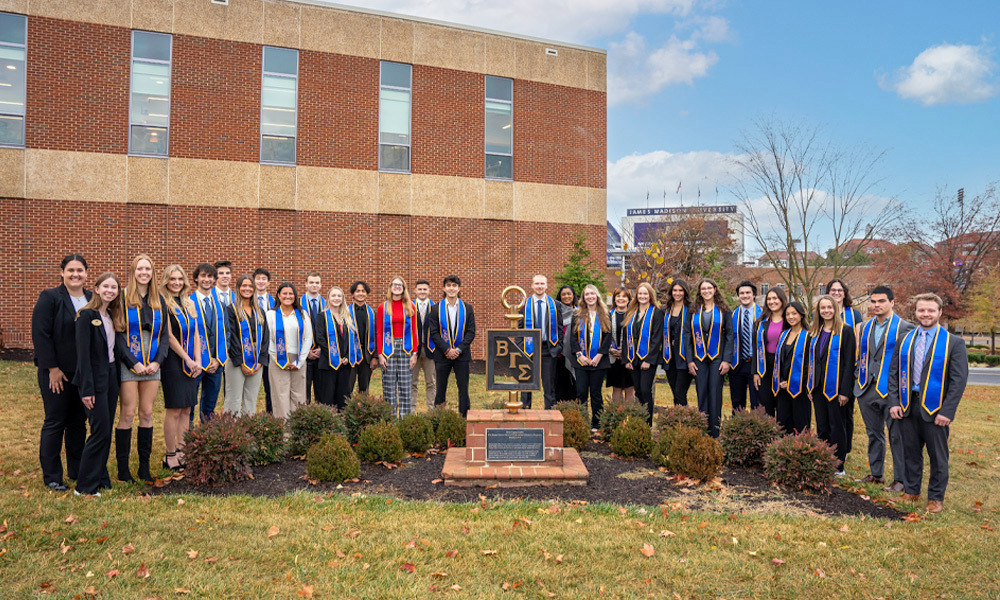 SUMMARY: The College of Business welcomes the newest inductees of Beta Gamma Sigma.
---
James Madison University's Beta Gamma Sigma chapter held its 64th Induction Ceremony on Friday, Nov. 3. The newest inductees were honored in Zane Showker Hall, where they collected their certificates, stoles and pins. 
Beta Gamma Sigma is the International Business Honor Society. Induction recognizes top-performing students who attend a business school accredited by The Association to Advance Collegiate Schools of Business (AACSB). Being inducted into BGS is the highest honor one can receive if attending an AACSB accredited college.
Amy Freeze, Accounting
Karl Holsomback, Accounting
Bonnie Horkan, Accounting
David Lee, Accounting
Jacob Markin, Accounting
James  Mills, Accounting
Hope Moulin, Accounting
Leila Toussi, Accounting
Emily Weber, Accounting
*Laura Aguirre, Business Management
Lauren Borror, Business Management
Brian Bratton, Business Management
Savannah Derey, Business Management
Patrick Lee, Business Management
Max Olson, Business Management
Morgan Tribby, Business Management
Miette Veldman, Business Management
Joseph Chang, CIS
McKinley Dean, CIS
Colin Herwig, CIS
Griffin  Imlay, CIS
Josh Negron, CIS
Charlie Weyher, CIS
Bryan Wood, CIS
Molly McGraw, Economics
Catherine Craig, Finance
Aidan Denzler, Finance
Jake Dumas, Finance
Hayden Goff, Finance
Michael Hess, Finance
Madison Kozlowski, Finance
Kian Mostaghim, Finance
Angie Moulton, Finance
*Marcus Paolucci, Finance
Billy  Pulzello, Finance
Mei Bell, Marketing
Abby Burden, Marketing
Nancy Colwell, Marketing
Kelly  Dudley, Marketing
Olivia  Eschler, Marketing
Jorja Rich, Marketing
Cassidy  Strittmatter, Marketing
Arash Farazdaghi, MBA
Nuno Guilherme, MBA
Kristen Rosenfeld, MBA
Ashley Stevens, MBA
Chimisa Walker, MBA
*Students currently in Antwerp