News
From Harrisonburg to New York City: How one student is realizing dreams in two cities
---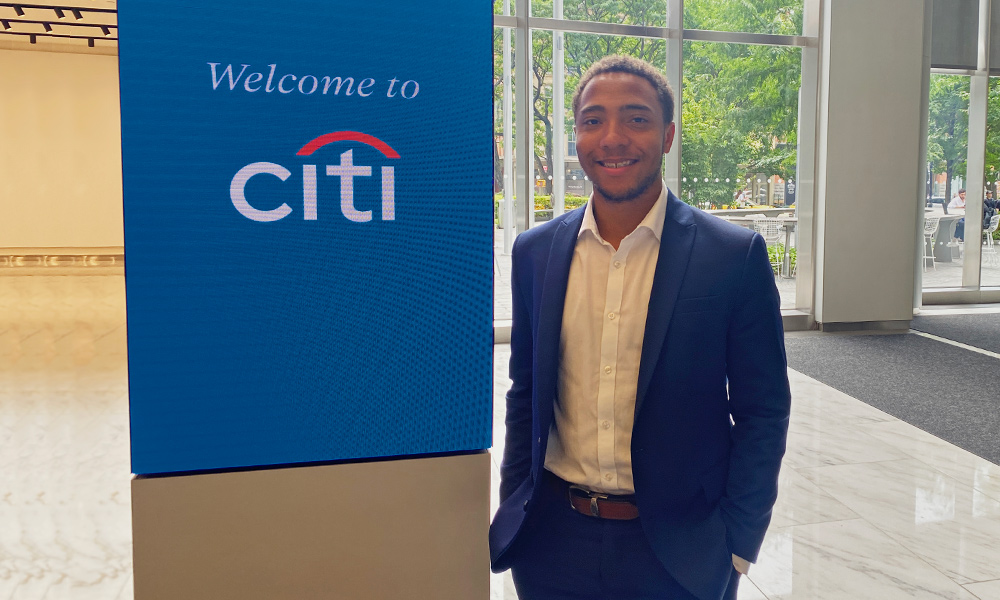 SUMMARY: One College of Business student is leveraging every resource he can. The results speak for themselves.
---
The transition from high school to college can be difficult. As you close one of the longest running chapters of your life, you're also making arrangements for your future. With so many choices ahead of you, the process can be overwhelming.
Jordan Lucas had a unique beginning to his college career. As a first-generation college student, he wasn't able to rely on his parents for advice or expertise; he was submitting college applications during the COVID-19 pandemic; and he was aiming to lock down a scholarship.
"My parents made it clear that they wanted their children to have what they didn't and that included a college education," Lucas said. "They saw the impact a college degree can have on someone and wanted us to experience that and make the most of our education. College has always been my goal since I was a kid."
Obstacles and challenges were present in Lucas' journey to college, but he didn't let them stop him. Today, as a junior Finance major, he continues to aim for his goals with perseverance and determination.
Lucas's interest in finance can be attributed to his family's successful businesses. His father owns a commercial cleaning company, his grandmother is a realtor and his mother owns a hair salon. Drawing on their entrepreneurial experience, he wants to gain the financial skills that are needed to operate a business.
Lucas explained, "I was plugged into the recruiting process early in my college career because I wanted an internship before my junior year. I knew how competitive these positions were so I took advantage of the diversity programs the banks offer. I used this as a way to get my foot in the door and then started expanding my network."
Shortly into his time at JMU, Lucas began seeking events, workshops and individuals capable of helping him along his journey. He sought assistance from the Office of Professional Development and Engagement, and made connections with upperclassmen who could also offer tips and advice.
"I wanted to participate in the OPDE's N.Y.C. Career Trek as a sophomore, even though this is typically attended by upperclassmen," Lucas said.
Career Treks are trips that enable students to engage directly with employers, gain firsthand insights and enhance their professional skills by meeting senior-level executives and JMU alumni from leading companies. "I knew I'd benefit from attending the N.Y.C. trek. It helped me gain a sense of professionalism and responsibility, and develop a network of JMU alumni," he said.
As a result of this experience Lucas set his sights on securing an internship in New York, something he knew he could accomplish with hard work and dedication. "The Career Trek opened up my exposure to financial services and to the city itself and working in finance. A lot of the people I connected with on the Career Trek helped me with preparing for interviews and guided me through the recruitment process," Lucas said. He continued, "I felt confident in myself and the things I'd learned already at the CoB, so I applied to internships despite the stress and nerves. Having done the prep work, I felt prepared to showcase myself in the best way possible."
Lucas began to leverage all available JMU and College of Business resources to ensure that he landed the internship of his dreams. Through the college's bi-weekly newsletter, Lucas found many opportunities to actively engage, whether that be by attending a session with investment-banking guest speakers, alumni receptions or career panels. "Those were really important and gave me perspective on what types of skills I should really hone, and allowed me to connect with my peers," he said.
By attending these events, Lucas was able to meet other CoB students who had similar career goals and interests. The connections he made gave Lucas an insider look at what other students' internship experiences were like and how they got the positions. While she was still a student, Mya Baptiste ('22) offered Lucas advice that he still remembers.
He explains, "Mya was a senior when I was a freshman, and she was the first upperclassman in the CoB that I connected with regarding careers in finance. We talked about her internship process and how positive her internship with Citi was the summer before and that really motivated me. Not only was it motivating to see someone who looked like me in a position that I wanted to be in, but she was also encouraging and a great support system."
He found additional support through JMU's Ole School Alumni group, a non-profit organization founded by African-American alumni. Lucas explained that the group focuses its efforts on underrepresented groups on campus and works to ensure that those groups are afforded the same opportunities as everyone else. It offers mentorships, assists in network building and serves as a support system.
"My mentor helped me narrow down my career goals and made me feel like I always had someone in my corner. He helped me through the recruitment process by looking over my resume, providing feedback and holding mock interviews which really helped me polish my professional skills," said Lucas.
Lucas learned of Citi's internship programs first through Baptiste, who encouraged him to apply for Freshman Discovery Diversity Day, its early insight program. He attended the program after his freshman year, and by the following October, Lucas was applying for Citi's Sophomore Investment Banking Summer Analyst position. Through his connection with Baptiste, Lucas leveraged his newly expanded network and began practicing his interview skills. "I accepted my internship offer from Citi in November and couldn't have been more excited or proud of myself," he said.
The College of Business offices and centers work tirelessly to prepare students for the workforce and students should be taking advantage of the professional development events, panels and workshops early in their academic journeys. Building skills and polishing performance equip students with skills they can use the rest of their lives. Lucas's hard work and dedication has put him in a position where, although only a junior, he's completed an internship, made valuable connections and is on his way to reaching his goals.
Lucas concluded, "My CoB experience, so far, has been so rewarding and a fantastic learning opportunity. I'm grateful for the professors and students I've met, and the alumni who have helped me. They are here to help students succeed and are excited to see us reach our goals."