News
Youth camp fosters leadership mindset
---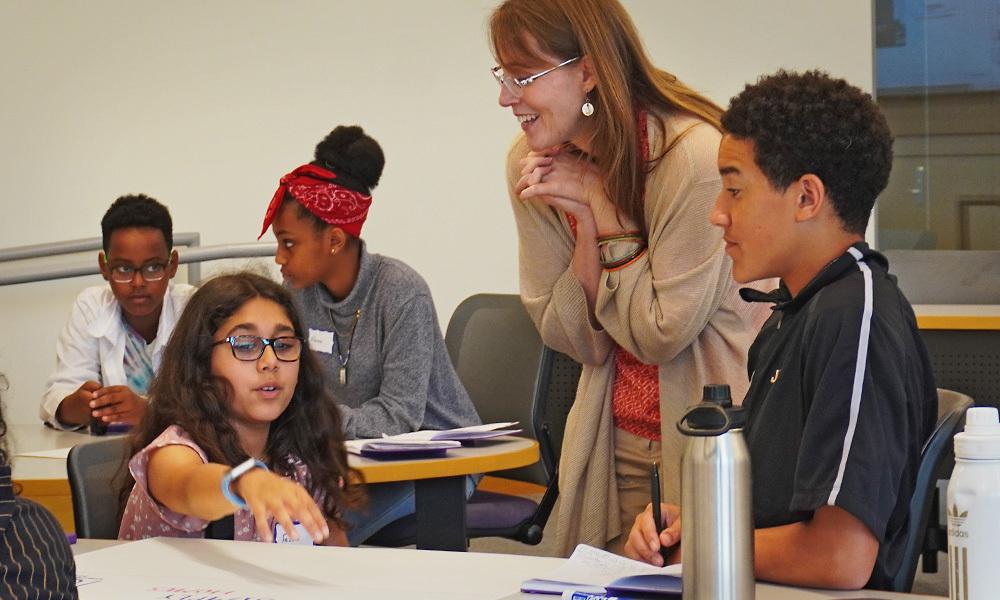 SUMMARY: Harrisonburg middle-schoolers come to JMU campus to learn basics of business
---
All over the world, precocious and passionate young artists and activists have emerged in recent years as influential advocates for diversity, access and inclusion. Some of their counterparts in the Central Shenandoah Valley were encouraged this summer to embrace a brand of entrepreneurship that affirms these same core values.
A new initiative at James Madison University, funded by a Faculty Senate Engagement Mini-Grant, aimed to equip about three-dozen middle-schoolers from a variety of backgrounds with the resources and skills they would need to become leaders in the realms of business and commerce.
It also sought to promote engagement between local institutions of higher education and local immigrant communities, through the development of talent "pipelines" that facilitate social and economic mobility.
Sponsors included not only JMU's School of Strategic Leadership Studies but also nearby Bridgewater College. Logistical support was provided by Church World Service's Harrisonburg Immigration and Refugee Program and several community centers.
The cornerstone of the project was a four-day camp, the purpose of which was to teach leadership skills, as well as basic business principles and an operating knowledge of budgeting and money management. Titled "Educating Diverse Youth Business Leaders," it ran June 20-23 in the JMU College of Business' Hartman Hall.
"These young persons developed their own projects," said Margaret Sloan, director of the SSLS and one of the hosts of the event. "Whether it was a startup business or a community-service idea, they worked on it throughout the week and then presented it on the final day of the camp."
Collaborating with Sloan on the coordination of camp activities was Sevinj Iskandarova ('16M, '21Ph.D.), an assistant professor of economics and business administration at Bridgewater and also a "Double Duke" by virtue of having earned both master's and doctoral degrees from JMU.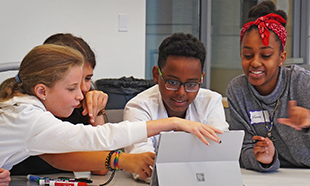 "We wanted young leaders from diverse backgrounds to feel empowered and supported on their journey toward fulfilling their goals," said Iskandarova.
Rounding out the event-coordination team was Karen Ford, professor emeritus and former SSLS director.
"Leadership is not a solitary endeavor," said Ford. "This camp provided an opportunity for a diverse group of young people to see the importance of creating a network of peers, and to get a glimpse of what the future may hold for them."
The camp reflected the increasingly polyglot character of the local population. One-quarter of the world's nations are currently represented within the Harrisonburg City Public Schools, and more than 50 distinct languages.
In addition to English, many of the event participants spoke one or more of several Arabic dialects. Project organizers also strove to accommodate speakers of Russian, Ukrainian, Kurdish and Swahili.
At the conclusion of the camp a career-assessment test was administered. From it, said Iskandarova, it is possible to glean "which subjects and skills campers were particularly strong in, and should continue to build up."
The goal, she said, "was to help them unlock their potential — whether by providing them with useful resources, giving valuable advice or simply lending a sympathetic ear."