News
Combining CoB "gateway" with study abroad
---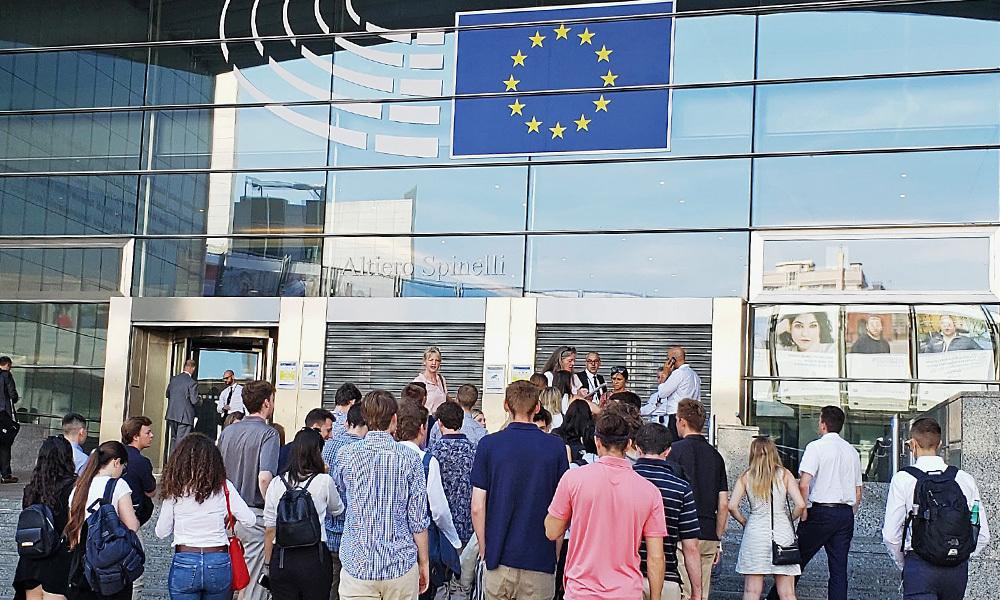 SUMMARY: Students learn business principles while living in one of Europe's most historic and progressive cities.
---
For the JMU business majors who experienced COB 300 during the Spring semester in Antwerp, Belgium, the 12-credit course-cluster — famed "gateway" to the College of Business — had a decidedly international flair.
COB 300 is an integrated learning experience that introduces students to the fundamental tools of management, finance, operations and marketing in such a way as to demonstrate their mutual relevance and interdependence.
Course content undergoes some modification when it is offered in Antwerp. In addition to the four stand-alone components, it includes an integrated case-analysis project which takes the place of the business-plan project traditionally assigned in Harrisonburg.
For this past spring's project, the JMU cohort was absorbed, during the week of March 20-24, into the University of Antwerp's 10th annual "International Week on Sustainability," otherwise simply known as "I-Week." During this period, the students
Shared with academics, professionals and each other their perspectives on corporate sustainability, social and environmental reporting and business strategy for sustainability;
Were exposed to a number of sustainability challenges through an intercultural networking event;
Listened to a debate on sustainability involving CEOs from companies all over the world;
Worked as members of multicultural project teams to create papers and presentations that analyzed a current sustainability issue in a specific international organization.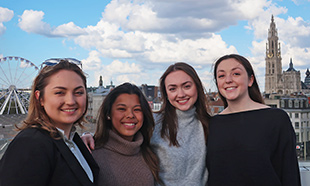 Finance major Morgan Maxwell was a member of a project team in which three Belgians, a Russian and a Peruvian were also involved. Maxwell said she was impressed by the intensity of the focus other nations bring to issues involving sustainability. "It's part of everything they do," she said.
The case analysis conducted by Maxwell's group examined the sustainability profile of AkzoNobel, a Dutch manufacturer of high-performance paints and coatings. 
The "Semester in Antwerp" program emphasizes experiential learning such as that promoted by "I-Week." The many field-trips and lengthier excursions are supplemented by classroom theory, with University of Antwerp faculty members providing the instruction. An institution that draws students from all over the world chiefly for its business programs, UA specializes in European integration and the effects of economic and monetary union.
Although Flemish is Antwerp's official language, English is widely spoken and is the language in which all of JMU's "Semester in Antwerp" classes are conducted.
Such sacrifice of course integration as may occur at the margins of COB 300's stand-alone components is more than offset by extended visits to the headquarters of the European Union (EU) and the North Atlantic Treaty Organization (NATO) in nearby Brussels, as well as other key governmental institutions, businesses and cultural sites throughout Europe.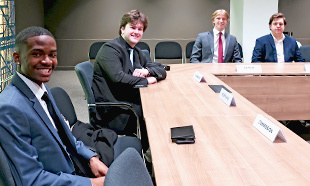 Carson Tighe, a CIS/Marketing double major, said that, for its "I-Week" project, his group was tasked with developing a presentation on Janssen Pharmaceuticals, a subsidiary of American healthcare colossus Johnson & Johnson which occupies a large corporate campus about 25 miles east of Antwerp.
The focus of the presentation was on Janssen's "sustainable development goals." Tighe said that, through their own research supplemented by a presentation from Janssen's environmental sustainability manager, he and his teammates learned how companies like Janssen are becoming more sustainable.
In addition to Tighe, the group consisted of two students local to Antwerp, along with an Austrian and a South African who participated in group meetings virtually. Two of the students were primarily English speakers and the other three spoke English only as a second (or third) language.
Tighe said he was nevertheless surprised by the degree to which American students appeared to mirror those from elsewhere. "Despite the cultural differences, we were really very similar," he said.
Tighe added that, while he took pride in the quality of the product he and his teammates ultimately created, he was even more satisfied with the level of engagement he experienced with the students from the University of Antwerp. He said he loved the sharing of differing points-of-view that took place.
"It was eye-opening to get their perspectives on the world and get to know them," added Maxwell, the third-year Finance major. "It's amazing to know that you can come from so many different backgrounds and still find ways to collaborate and produce something in which the entire group can take pride."