News
Stimulating the global economy
---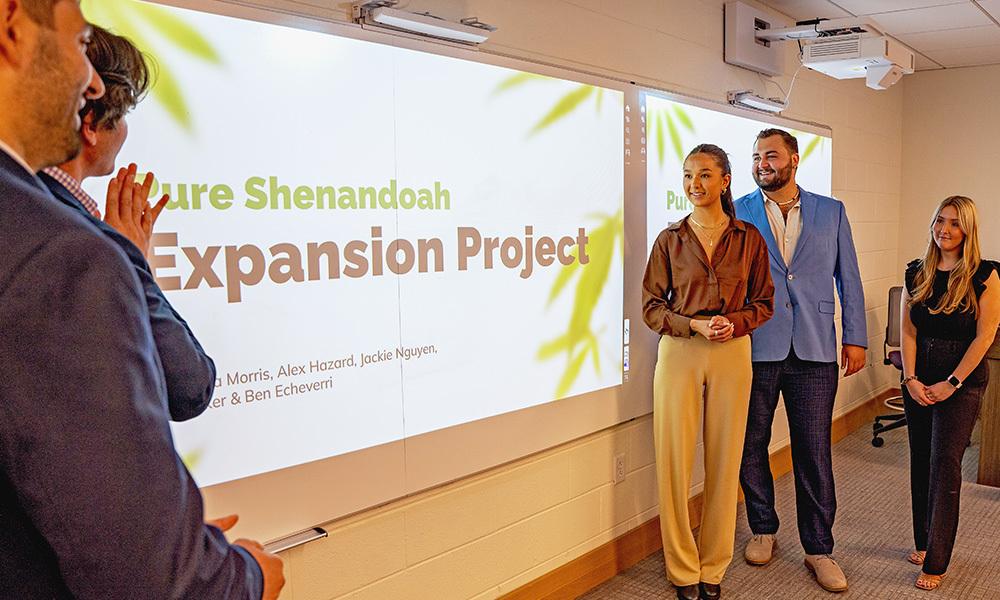 SUMMARY: International Business students spend their semester extensively researching the world's economies.
---
"International business" is a term that describes many different facets of business activity — including supply-chain issues, trade rules and regulations, aid for foreign countries and even politics. In Professor Laura Leduc's International Business Theory and Policy course, students learned just how much research and planning is required before exporting a product to a different country. 
Leduc and her students identified a local business, Pure Shenandoah, which was interested in exploring opportunities to export its products. The Elkton, Virginia-based cannabis company makes products, including building materials and CBD oil, from industrial hemp.  
Leduc explained, "The students select a region of the world and explore advantages and disadvantages of doing business in that area — topics like geographic distance from the U.S., language and cultural differences are considered." Several countries within that region are then chosen for a deep-dive into factors like population size, economic strength, government regulations that would make trade more difficult and trade agreements that would make business easier. Each of these factors needed to be studied in order to determine what challenges Pure Shenandoah could encounter if they chose to export to one of these countries. 
Among the five student teams in the class, two were tasked with researching CBD oil exports to Europe and Asia, while the other three were studying the export of building materials to regions such as North America, Africa and Europe.  
Senior International Business major, Alex Hazard, and his team focused their efforts on Syria and Turkey, with the goal of shipping building materials for rebuilding efforts after a devastating earthquake. "We have been exploring various topics such as Hempcrete building materials, international wholesalers and sustainable alternatives to traditional building materials and insulation," he said.  
The students' semester-long project culminated during their final-exam period when brothers Abner, Jake ('16)  and Tanner Johnson ('15), founders of Pure Shenandoah, were joined by Emma Farmer and Nancy Price of the Virginia Economic Development Partnership to hear the students' presentations.  
The capstone course gave students the opportunity to learn more about their assigned region of the world, creating a mindset of curiosity and leading to interesting discoveries. Hazard said, "One of the most surprising findings we discovered was that the Turkish government is pouring large subsidies into rebuilding efforts, and it has created a unique opportunity for Pure Shenandoah to not only develop a global presence, but also to contribute to CSR (corporate social responsibility) initiatives, further developing a positive brand image."
When seeking to export products, it's also important to have an understanding of the world's diverse range of cultures, norms, economies and procedures. Diede Remijnse, a senior majoring in International Business, encountered some notable discoveries in her research on Africa. "One thing that can't be overlooked is the role that corruption plays in many countries in Africa, making it difficult for an American company to do business there. There is also wide income inequality in most African countries, which needs to be considered when you look at a company's target market," she said.  
In their presentations for Pure Shenandoah and VEDP, students supplied background information on their selected countries, including a breakdown on competitors in the region, shipping costs, taxes and tariffs and basic marketing issues. When the teams completed their presentations, Pure Shenandoah and VEDP had the opportunity to quiz the students further on their research, taking part in a Q&A. 
As presentations wrapped up and the semester drew to a close, a class composed entirely of seniors celebrated the delivery of one final presentation before taking the first steps in their future careers as global business leaders. "The world is becoming more globalized, and it's really interesting to learn how it works and what opportunities and challenges globalization and conducting business internationally will bring," concluded Remijnse.