News
Secrets of true happiness and meaning are shared during commencement message
---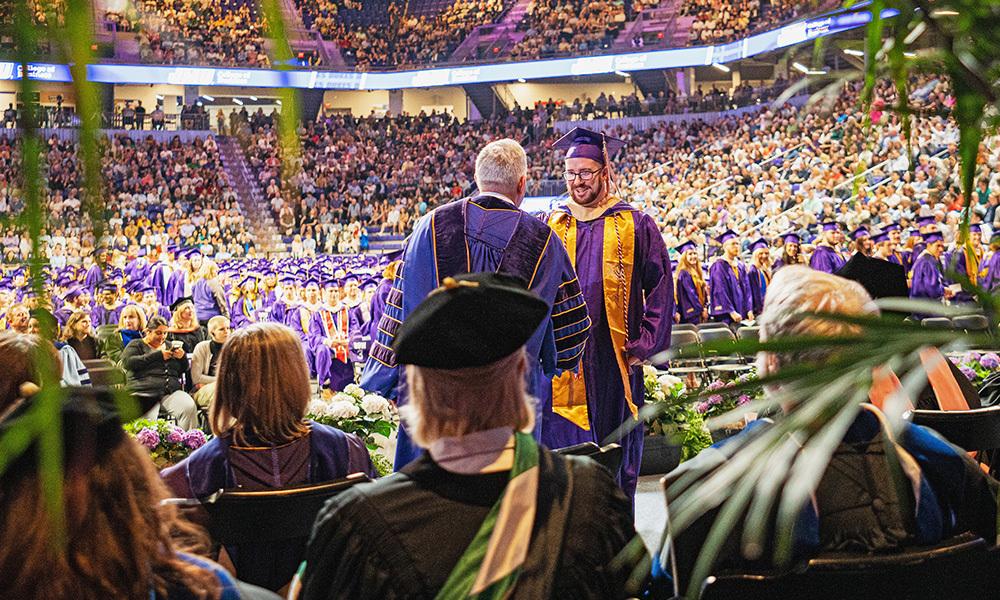 SUMMARY: Speaker counsels graduates to approach life-choices with a two-part test.
---
Encouraged by their faculty speaker to stay true to themselves and remain demanding of themselves, some 800 undergraduates crossed the stage to receive their diplomas on May 13, when James Madison University's College of Business conducted its Spring 2023 commencement exercises in the Atlantic Union Bank Center.
Among them were close to 600 who had completed one or more of the CoB's eight  undergraduate majors. They were joined by the 200-plus students who had satisfied the requirements for graduation from the Hart School of Hospitality, Sport and Recreation Management.
Almost 90 others who earned advanced degrees from CoB specialty programs were recognized at separate ceremonies around the campus on graduation weekend.
In his welcoming remarks, Michael Busing, dean of the College of Business, urged graduates to "keep dreaming and following your passion."
"By doing so," he said, "you will lead a productive and meaningful life and positively impact those around you."
Busing reminded graduates of a courtesy that has become a distinguishing feature of JMU's culture of caring. "JMU alumni routinely reach back and open doors for those who come after them," he said. "Continue this tradition."
Following Busing to the podium was Jonathan Alger, president of the university, who said that, when he hears employers talk about graduates of the JMU College of Business, he hears words like "teamwork," "leadership," "innovation," "engagement" and "problem-solving."
"But at the heart of it all is relationships," Alger said. "Your achievements are the result of human connections." He therefore urged the graduates to "give a smile, a hug and a word of thanks to as many people as you can today who helped you to achieve this milestone."
Alger also emphasized the benefits of wearing JMU purple in every setting and situation. "[Wear it] with pride wherever you go," he said. "It's a great way to meet people who are connected to the JMU family.
Selected by a vote of the students to serve as the faculty speaker for the occasion was Elias Semaan, Gaglioti Professor of Finance and a member of the College of Business faculty since 2006. Semaan is a four-time winner of the Dr. Otto C. Brenner Memorial Award, which signifies his having been named JMU's "outstanding undergraduate professor."
Among the "million-and-one questions" with which new graduates often feel besieged, he said, only a very few require immediate attention. Above all else, Semaan said, graduates should concern themselves with asking "have I been true to myself?" and "have I been demanding of myself?"
The first, he said, means "true to your values and principles, true to the innate goodness that is within you."
The other—being "demanding of yourself"—implies, said Semaan, that "you will always challenge yourself, face your responsibilities, take on more responsibilities and never take the easy way out simply because it's easy."
Through consistent application of these basic precepts, he said, graduates can approach each crossroad they encounter confident that the decisions they make will be the right ones.
"With time," Semaan added, "you will come to realize that success, happiness and meaning are … measured by … the challenges you overcome, the responsibilities you undertake and the way you carried yourself throughout."