News
JMU meets the test in annual global competition
---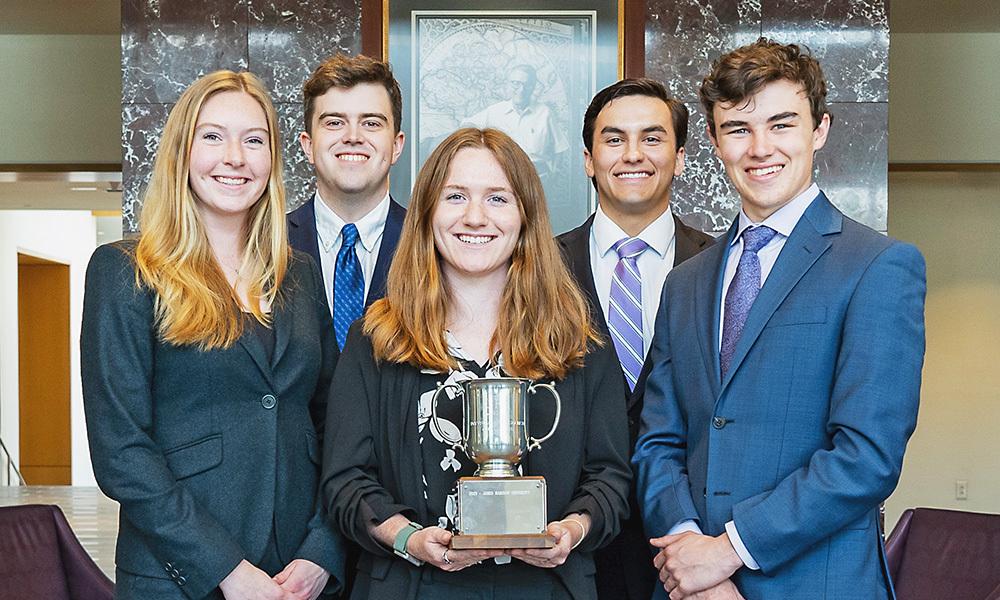 SUMMARY: A team of five CoB students goes further than any JMU-sponsored team has previously gone in the CFA Challenge.
---
Five students from the College of Business made the deepest run a JMU team has ever made in the CFA Institute's Investment Research Challenge, a prestigious international competition for college-level business analysts.
The team's designation as co-champions of the Southeast U.S. subregion qualified them to advance to the regional semifinals, in which they were pitted against 16 other teams from North, Central and South America.
This represented an unprecedented degree of success for a JMU-sponsored team, surpassing the first-place finish achieved by the 2022 team at the state level of the competition.
The 2023 team members included: Ethan Coyle (Finance), Ned Muckerman (Finance), Derek Haynie (Finance), Diede Remijnse (International Business) and Caley Zack (Finance and Accounting).
"We had a multicultural team this year — one where all of the members had very different personalities and yet shared a genuine interest in financial analysis and valuation," said Hui Sono, J. Gray Ferguson Eminent Professor of Finance and faculty mentor to the CFA Challenge team.
"They were self-starters and very detail-oriented," Sono continued. "They all contributed to the writing of the research report and delivered excellent presentations, from the Virginia state round straight through to the Americas semifinal round."
The CFA Investment Research Challenge is an annual global competition that provides university students with hands-on mentoring and intensive training in financial analysis and professional ethics. Students are tested on their analytical, valuation, report-writing and presentation proficiencies. They gain real-world experience by role-playing the job functions of a research analyst.
"This contest was an enormous help to me in learning and developing my skills in all forms of financial analysis and valuation," said Coyle. "It has helped me realize what job path I want to follow in the future." 
Coyle added that he had "enjoyed working closely with the other team members to push ourselves to make it further than any other JMU students ever have."