Uplift in the Mile High City
News
---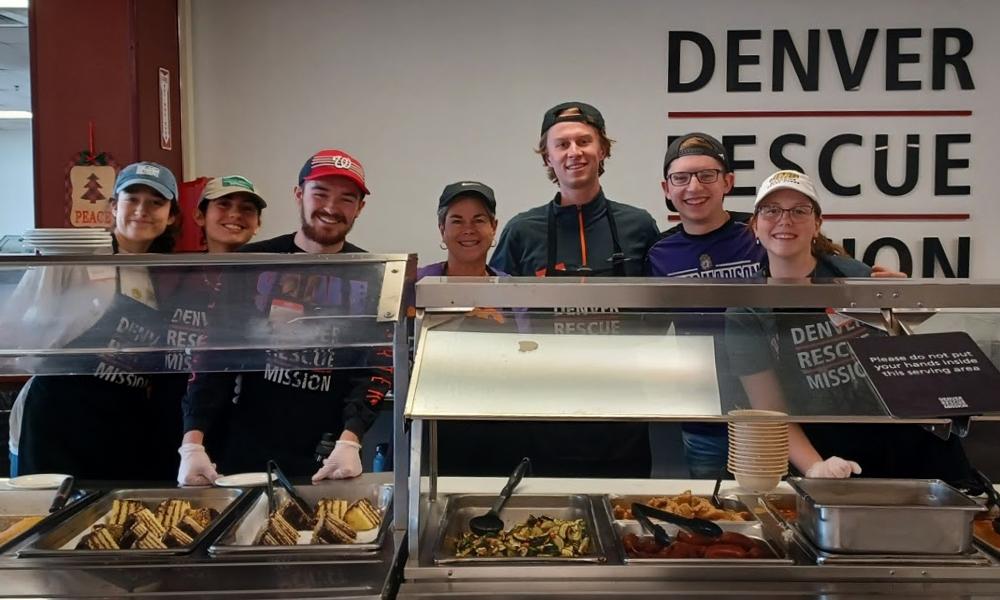 SUMMARY: Business students devote Spring Break to serving the homeless.
---
Elijah Dale arrived in Denver for this year's Alternative Spring Break thinking he had a pretty good idea what homelessness and substance abuse look like. What he wasn't prepared for was how closely the faces of the men he met at Denver Rescue Mission mirrored his own.
"A lot of the people we were serving looked not that different from our friends and colleagues back at JMU," says Dale, co-leader of the College of Business' Alternative Spring Break team with former high-school classmate Sydney Cave. "It was shocking to realize that any of us might be no more than one bad decision away from life on the street."
Dale says his attraction to the alternative-break program is a byproduct of having witnessed the corrosive effects of chronic substance abuse within his own family. Those experiences resulted in him spending his formative years largely in the care of his grandparents.
Listening to the testimonies of the men at Denver Rescue Mission made clear to Dale how some of society's most intractable problems have their deepest roots in childhood trauma. He says the candid interactions in which he engaged — especially those with persons who have finally found permanent housing and gotten "clean" after, in some cases, years of chemical dependency — were "really eye-opening," adding that "they made us all appreciate what we have."
The College of Business' arm of the alternative-break program hosts out-of-state excursions each spring that broaden the outlook of participants through direct engagement with the community. It enables a group of about a dozen students to devote a week to volunteer service. The goal is to help ensure that future generations of business leaders sent forth by JMU will be steeped in a culture of "giving back."
This year's local partner was Denver Rescue Mission, a nonprofit which serves those in the Mile High City who are struggling with financial hardship, homelessness and addiction. Through a weeklong series of projects, JMU business students learned about the issue of gentrification and the resilience of the communities that must deal with its effects in the shadow of Denver's evolving urban landscape. Immersion in the unfamiliar environment enabled them to experience, discuss and understand the issue in a profound and meaningful way.
Dale, a junior, is an Accounting major who plans to remain at JMU to complete the five-year program leading to a master's degree. He says he hadn't known about Alternative Spring Break until he heard a Community Service-Learning leader describe it at a training session last fall. It made him want to find out more about how such a program has remained viable for so long.
"I grew up here in the Shenandoah Valley," he says, "and unfortunately there are no programs here specifically for the homeless population. The few that have popped up have fizzled quickly due to a lack of funding."
Dale says that while there may not appear to be any connection between the alternative-break program and his future career as an accountant, there are in fact many needs for accounting services in the nonprofit world. He and the rest of the team learned about some of those needs when they sat down on the trip's first night to a home-cooked meal provided by the Denver Dukes Chapter of the JMU Alumni Association. It was a valuable opportunity for team members to network and make connections that could pay big dividends once they embark on their careers.
"I hope eventually to use my experiences in Denver and the connections I made to implement a more concrete and permanent solution to homelessness in the Valley," Dale says.