News
Students make their pitch in annual competition
---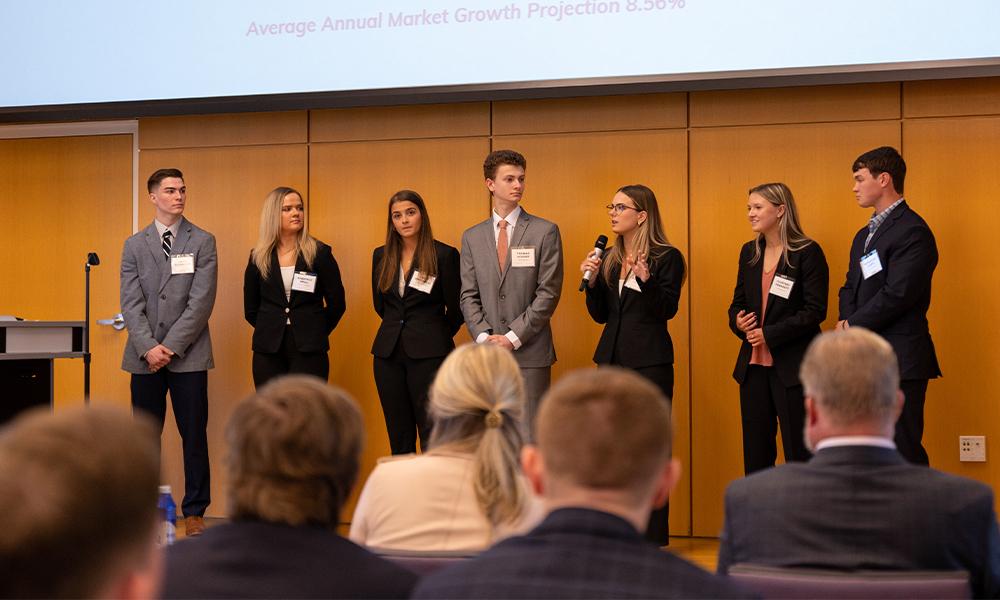 SUMMARY: Attendance and scholarships reach new heights in the Rainey-Shepard COB300 Business Plan Competition.
---
James Madison University's College of Business held its annual COB300 Business Plan Competition on March 24, with ThermoBambino emerging as the overall winner. 
Members of ThermoBambino were awarded a $6,000 scholarship that will be divided equally among:
Team members presented a business idea for safer baby-feeding products, including bowls and cups that change color when food or liquids are at a safe consumption temperature. "We are a company that is focused on the safety of our customers' babies and providing inexpensive, aesthetically pleasing, safe baby-feeding products," they wrote.
In second place was Phoenix LLC with its proposal for an insulated cooler called the SaunaBox. SaunaBox would have the ability to keep food items either warm or cold as needed. Third place went to M&T, a company that would provide vertical-farming technology for raising mushrooms. Eco-wrap, an eco-friendly cling-wrap solution, finished fourth. Finishing in fifth place was DRONEIT, an aerial survey company that would help construction companies identify and eliminate mistakes made during the building process. Through the generosity of College of Business supporters and donors, some $33,000 in scholarships were awarded at the conclusion of the competition.
More than 100 business plans are submitted each year for consideration. After multiple rounds of review, the top five advance to the final round of the competition. There, judges weigh the quality of each team's preparation and presentation, and the originality and potential profitability of the idea submitted.
Although students develop their business-plan ideas themselves, each team receives mentoring and coaching from CoB alumni who have gone on to become successful business leaders and entrepreneurs, and who now serve as  judges for the competition.
In the 21 years since its inception, the COB300 Business Plan Competition has served to better prepare students for their future business endeavors and showcases the time and hard work that they put into their COB300 coursework. The competition, while it may be the most prominent, is just one example of how CoB students use their learned skills to their full capacity.
More on the competition, individual awards and teams is available here.