News
New course moves curriculum into future of accounting
---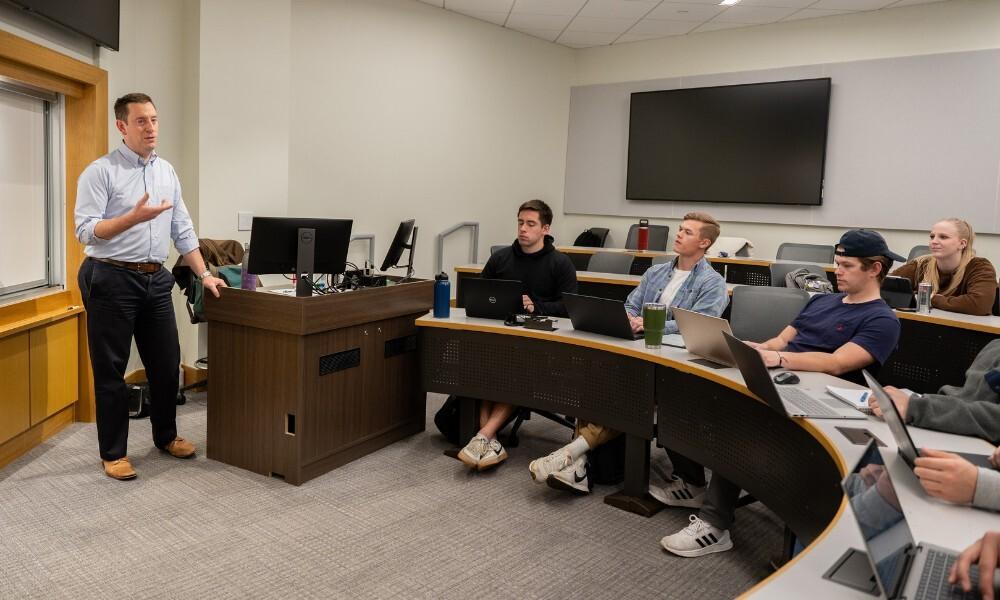 SUMMARY: Revamping of CPA exam spurs creation of new data-security course.
---
The newest addition to the School of Accounting's list of graduate-level offerings is a course that aims to provide a thorough grounding in the subject of data security: Information Security and Control (ACTG 690). 
"I don't see the course replacing the existing M.S. in Accounting program, but instead supplementing what's already there."
-Matt Reidenbach
Matt Reidenbach, developer of the course and Hantzmon Wiebel, LLP Faculty Scholar in the School of Accounting, says it is for those who have an advanced accounting background and now want to acquire some specific subject-matter expertise, "or at least some familiarity with the key issues and terminology." 
The students Reidenbach has in mind think of themselves not so much as designers of computer systems, but as high-level analysts capable of validating or verifying whether a system is working as it should. The focus is therefore on users of information technology who need to understand it well enough to serve as the interface between senior management and IT professionals to ensure, for example, that sensitive information, including financial data, is secure.
"I don't see the course replacing the existing M.S. in Accounting program," he says, "but instead supplementing what's already there." The impetus for the creation of the course comes from changes in the CPA exam that are scheduled to take effect in 2024. "They're moving," Reidenbach says, "toward a model where you have general accounting expertise that you demonstrate on the exam, and then select an area of specialization." One such specialty is information technology. Its emergence intersects with the increasing adoption of new IT applications by accountants working in core-compliance fields such as tax and audit.
The pedagogy has yet to completely catch up. Currently, there is no single textbook from which a course such as ACTG 690 can be taught. JMU alumni are stepping forward to close that gap and to share where they see the profession heading. 
In the end, however, the principles and best practices of data security as they apply to accounting are those tested by time. "It's still a people business," Reidenbach says. "It's about people and how they interact with technology." The question those new to the profession need to ask themselves, he says, is "how do you create processes that either promote better use of technology or restrain people from doing things they shouldn't do?" 
Students enrolled in Information Security and Control have the opportunity to earn three credit-hours toward the M.S. in Accounting degree. Plans are to offer the course one semester per academic term and include occasional visits from industry leaders.
Answering the call of what students will need when they graduate, Reidenbach believes this area of specialization has the potential for significant growth. "The hope is that this won't necessarily be the only thing we do," he says. "But we view it as an important first step toward equipping our students to be competitive."