News
Hardwiring institutions for change
---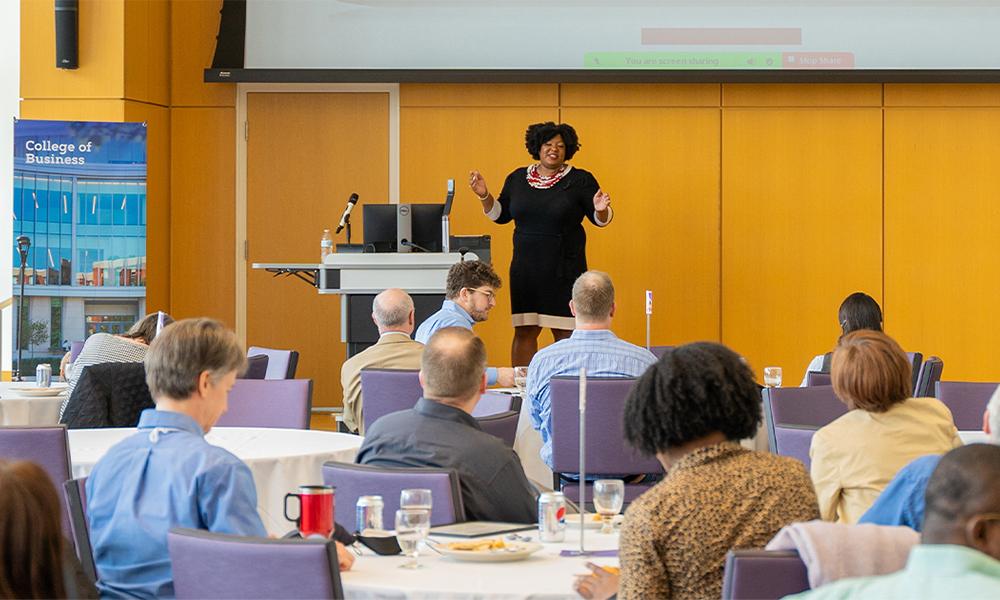 SUMMARY: Visiting scholar shares reflections in conference's keynote address.
---
"Since change is inevitable, how can we create systems, structures and cultures that are change-friendly?"
Such was the central question posed by Felecia Commodore, in her speech at the close of the third biannual Leading Change Conference. It was staged by JMU's School of Strategic Leadership Studies over the weekend of February 24-25.
This year, the SSLS reinstated the conference as an in-person event, after adopting a virtual format two years ago at the height of the COVID-19 pandemic. With nearly 80 participants representing more than 20 domestic and international organizations, it sought to connect leadership scholars and practitioners across disciplines in exploring the theme, "From Global Knowledge to Local Action."
Over the two-day conference, a total of 22 papers were presented and four special sessions were conducted.
Commodore, associate professor of higher education in the department of Educational Foundations and Leadership at Old Dominion University, titled her talk "From Limitations to Innovation: Becoming Limitless Leaders in an Ever-Changing Environment." She delivered her remarks at the Saturday luncheon and awards ceremony which concluded the conference.
In order to reimagine what leadership can be, she said, leaders must ask themselves "who has been excluded from the standard conceptions and definitions?"
By doing this, she said, "our imagining of leadership can become more inclusive and dynamic, which leads to innovation."
Commodore has published on a wide range of topics—from board governance, to college presidency, to Historically Black Colleges and Universities. In her scholarship, she has encouraged leaders not only to engage in deeper thought but also in more intentional action, especially as it relates to fulfilling the ideals of diversity, equity, inclusion and justice.
At the luncheon, several awards were presented by Benjamin Selznick, associate professor of Strategic Leadership Studies in the SSLS and chair of the conference.
Awards for "Best Master's Proposal" and "Best Doctor's Proposal" went to Ivana Marshall of the College of William and Mary and Elizabeth Narehood of James Madison University, respectively.
Samson Adeoye and Eric Kaufman of Virginia Tech and Jody Fagan and Ari Emilla Short of James Madison University shared recognition as authors of the "Best Overall Proposal."
Welcoming remarks on the event's opening day were delivered by Michael Busing, dean of the College of Business and holder of the Betty Coe ('64) & Paul J. Cinquegrana Endowed Chair in Business Ethics and Leadership.
"Our hope," Busing said, "is that you leave here with a new opportunity for collaborative research or an innovative idea that is a result of engagement with an emerging scholar, faculty member or practitioner from another institution."
The conference was the first such event to be staged in the JMU College of Business' expanded and refurbished Learning Complex, which formally opened in November 2021.