News
Banking team certified as cream of crop
---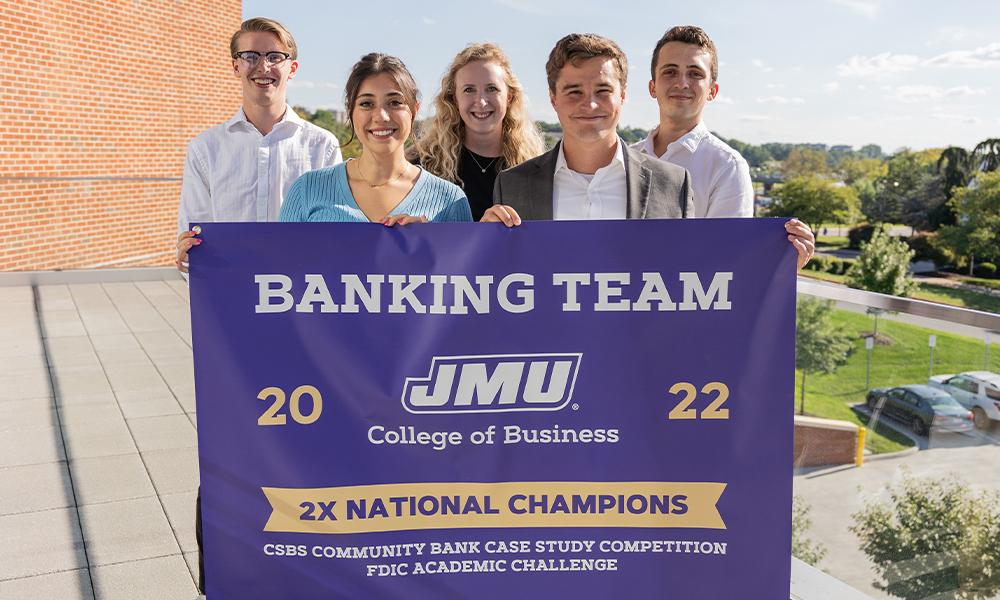 SUMMARY: JMU students among featured presenters at conference of nation's banking elite.
---
Before an audience consisting of senior leaders of the nation's banking and finance establishment, business students from James Madison University shared their findings in a prestigious case-study competition from which they emerged victorious.
The competition, sponsored by the Washington, D.C.-based Conference of State Bank Supervisors (CSBS), tested the JMU students' ability to appraise how well community banks have navigated the changes that have buffeted their industry in the past 10 years, and to forecast the trends most likely to do so in the coming decade.
The students' presentation, which focused on community banks in the Shenandoah Valley, was made to a stellar array of regulators, academics and other industry luminaries at the Community Banking Research and Policy Conference — "Community Banking in the 21st Century" — on September 28 at the Federal Reserve Bank of St. Louis.
The team consisted of three May 2022 graduates of the College of Business — Sara Kate Garman ('22) from Waynesboro, VA; Nicolás Gonzalez ('22) from Viña del Mar, Chile; and Emelia Potteiger ('22) from Great Falls, VA. Joining them was Noah Vanhoy of Staunton, VA, a finance major who is on-track to graduate this coming spring.
Rounding out the team was video specialist Collin Blanchard ('22) from Manassas, VA, a graduate of JMU's School of Media and Arts Design.
The JMU students were awarded first place in CSBS's annual case-study competition last July, besting teams from Iowa State University, Mansfield University of Pennsylvania, Mississippi State University and the University of Southern Mississippi. The original field of participants included 23 teams from 21 universities nationwide.
Their success in the CSBS event came close on the heels of a first-place finish in April in the Federal Deposit Insurance Corporation's "Academic Challenge," an equally prestigious competition.  
Among the key takeaways from the JMU students' presentation was their finding that the future of community banking remains under threat in the aftermath of the COVID-19 pandemic.
Crucial to community banks' continued viability post-COVID are the growth of their investments in technology. A pertinent example has been the role played by Timberville, VA-based F&M Bank in local facilitation of the Paycheck Protection Program (PPP) — the nearly trillion-dollar program created by the federal government to help ensure that small businesses can continue to pay their workers despite the chaos wrought by the pandemic.
F&M CEO Mark C. Hanna told JMU team-members that the bank viewed the PPP as a catalyst for upgrading its technology offerings in a way that would allow it to serve an ever-broader swath of the banking public while continuing to cement relationships with current customers.
For community banks to remain afloat, he said, they must have access to the latest technology solutions and also accurately anticipate the emergence of the next disruptive innovation.
National and regional banks enjoy significant advantages in terms of what they can afford to invest in research, development and integration. Community banks, resource-constrained in comparison with much larger competitors, often must outsource new technologies in order to achieve proportional results.
F&M has found that strategic alliances with financial technology firms ("fin-techs") are a way to address some of these challenges. Hanna said fin-techs increasingly recognize that their business model is well-served by collaboration with traditional financial institutions such as F&M. Such cooperation can free them, he said, to concentrate on their core mission — the development of new technology solutions.
Among the specific technology challenges faced by F&M, Hanna told team-members, is the attachment certain customer segments form for certain banking channels. This is perhaps not surprising, given the 70-year age difference between the oldest and youngest segments of F&M's customer base. What is clear is that no single technology can be all things to all customers.
Strategic alliances with fin-techs can make it possible for community banks like F&M to expand their technology offerings to younger customers while continuing to offer more traditional approaches to those who prefer them.
Hanna said that, going forward, it is impossible to foresee a world in which fin-techs and community banks are not intertwined. Cooperation between community banks and fin-techs allows each to succeed on its own terms, he said.