News
Professional development: A CoB specialty
---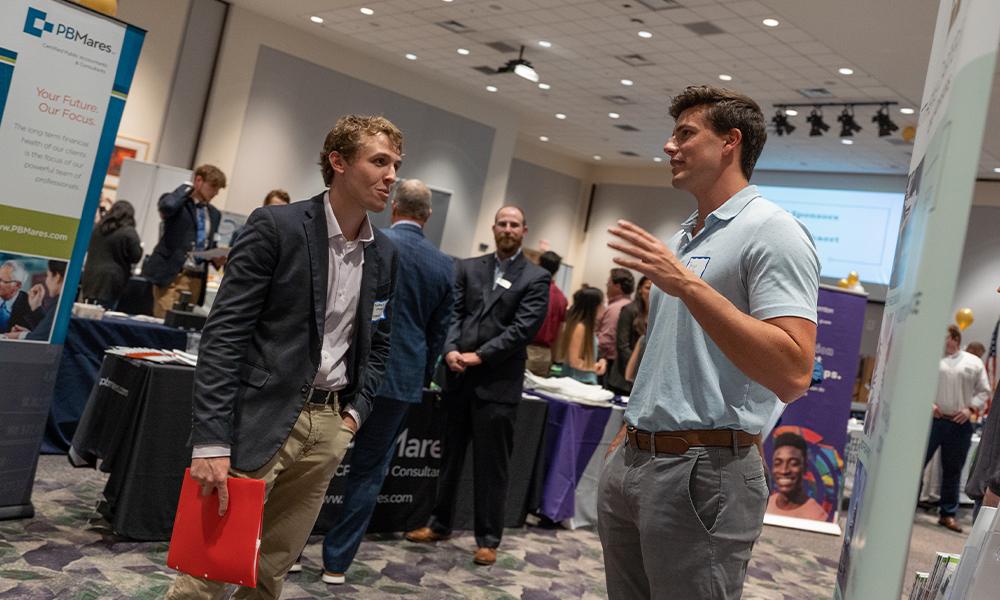 SUMMARY: Meet the Firms is a major-specific networking event that Beta Alpha Psi has been sponsoring for over 30 years.
---
The College of Business offers a wide range of professional development activities, and even offers major-specific events for students who want to get a head-start in developing their career paths while pursuing their studies. While new and exciting events are continually being developed, one program, Meet the Firms, has been running for more than 30 years. 
Meet the Firms is a networking event for those majoring in accounting, computer information systems or finance. Nearly 50 different firms attended this year's event, recruiting for their offices across the country.
Targeted towards juniors and seniors, this career fair affords students the opportunity to practice their personal introductory pitch and networking skills and to gain confidence. It also gives them an opportunity to ask about workplace culture to begin to get a sense of where they may feel most comfortable.  
Many of the employers who attend Meet the Firms are actively recruiting for their companies. With a targeted pool of job candidates, firms can cultivate professional connections with students that may develop into working relations. At a minimum, the event aims to provide a time for students to meet with firm recruiters and to learn a little bit more about job and industry opportunities. However, many students will receive externship or internship offers from a firm and may even be offered full-time employment upon graduation. 
Meet the Firms has been sponsored by Beta Alpha Psi for its entire 30-plus-year history. What was once a small networking gathering held in Mrs. Green's in Chandler Hall, has grown to a large invitation-only event. Nancy Nichols, former director of the Master's in Accounting program, explains, "it counted as one of the requirements for Superior Chapter for Beta Alpha Psi. BAP chapters are required to hold a certain number of professional events each year in order to retain their status as a superior chapter." 
In past years, approximately 300-400 students from accounting, computer information systems and finance have attended. This year, 300 students were in attendance, excited to get back to in-person networking events.
Lecturer in accounting, Eileen Shifflett ('89, '98 MBA), assisted in organizing Meet the Firms this year. "Almost every firm there was looking specifically for at least one of these three majors so it was a targeted event," Shifflett said.
"Students can meet numerous employers in a short period of time, and the employers are excited to be back in person, face-to-face with the students again," she said. "This type of event can expose students to different geographical areas and speciality areas they may not have considered before." 
The CoB supports student's academic endeavors, but also strives to ensure that once they graduate, they are prepared to enter the workforce as well-rounded, knowledgeable business professionals. Meet the Firms is just one of a multitude of networking events, career fairs and opportunities available to CoB students.