News
Learning how life looks from the corner office
---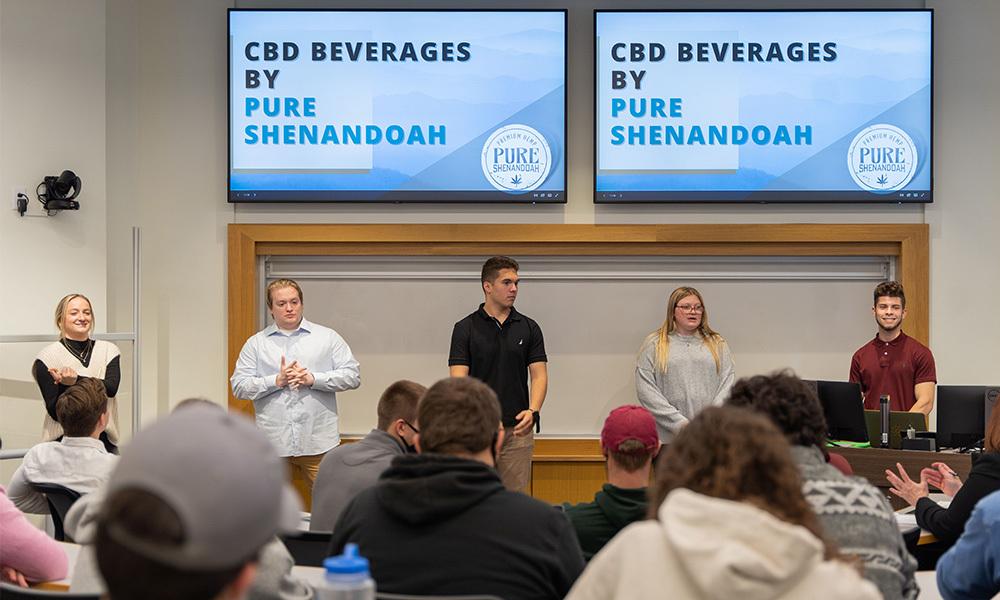 SUMMARY: Valley start-up company receives product proposals from JMU business students.
---
By David Doremus 
Pure Shenandoah, an Elkton-based startup company that launched in 2018, has invested nearly $3.3 million in a facility for processing hemp into cannabidiol (CBD), a substance that is finding its way into an ever-expanding array of over-the-counter treatments for maladies ranging from joint and muscle pain to insomnia.
During the fall semester of 2021, the company worked with students in Cyndi Reding's "Management of Innovation and Technology" class on the development and rollout of several new CBD-infused consumer products, including beverage and skincare lines.
Reding's students were organized into nine teams across the two sections of the class. Their proposals were required to include everything from an analysis of the competitive landscape, to sales and marketing strategies, to financial projections and technology plans.
"We got to do valuable work...that's also local, and to provide them with insights that will help prepare them for the future."
- Jonah Schulz, computer information systems major
"It was a great example of 'engaged learning,'" said Reding. "The students were out in the community getting direct exposure to how consulting engagements work at real companies."
Ellie Mast, a senior cultural communication major from Richmond, helped steer one of the teams assigned to develop a CBD-infused beverage. She said that, for her, pinning down precise data points was the most challenging aspect of the project.
"In general, there hasn't been a ton of research about hemp and its applications, and even less about the beverage market for it," she said. "That made for a lot of difficulty, but also added to the interest in that it left us a lot of leeway in which to be creative."
Elizabeth Akers of Columbia, Maryland, a junior majoring in communication studies with a pre-law/entrepreneurship minor, was a member of one of the teams tasked with developing and distributing a line of CBD-infused skincare products. She said the class provided her with deeper insights about the skills needed for "a job involving innovation and technology."
Twenty-three-year-old Abner, who manages the company's production facility, said the student presentations have helped him visualize a process that previously had been mostly a paper-and-pencil affair.Pure Shenandoah itself has a strong connection to JMU, with two alumni among the members of its senior management team. It was founded by siblings Abner, Jacob ('16), Skyler, Talbot and Tanner ('15) Johnson.Calling it "the most difficult group project I've been involved with" since coming to JMU, Akers added that "knowing we were presenting for a real company added an extra level of wanting to make sure we did it well."
Jacob, 28, said "seeing what we can use for our hemp packaging of these products was something I was specifically looking for, and one of the groups hit it right on the head."
Jonah Schulz, a senior from Herndon majoring in computer information systems, and his team were looking to carve out a niche in the beverage market, and believes they found one by opting to offer their product as a powder.
"We decided to leverage that as a core competency to drive sales," he said.
It made sense to position the product initially as a supplement, Schulz said, rather than compete head-on with the established, traditional bottlers who are also trying to break into the market for CBD-infused beverages. That kind of strategic thinking won designation for Schulz's team as the developer of the "most innovative product" in the beverage category.
"I really liked the real-world aspect of it," he said. "We got to do valuable work for a hemp-processing company that's also local, and to provide them with insights that will help prepare them for the future."
Tanner Johnson, 29, Pure Shenandoah's CEO, says his interactions with Reding's students were focused on gaining fresh perspective, and on cherry-picking "good ideas that work." He says there were "three or four things per group" he knows he will be able to apply to real-world situations he encounters in his business.
The company was so pleased with the results of the fall semester's collaboration that it has asked Reding to extend the arrangement through the spring. The next round of projects will focus on Pure Shenandoah's industrial hemp business.