Accounting
Simulating life on the front lines of business consulting
---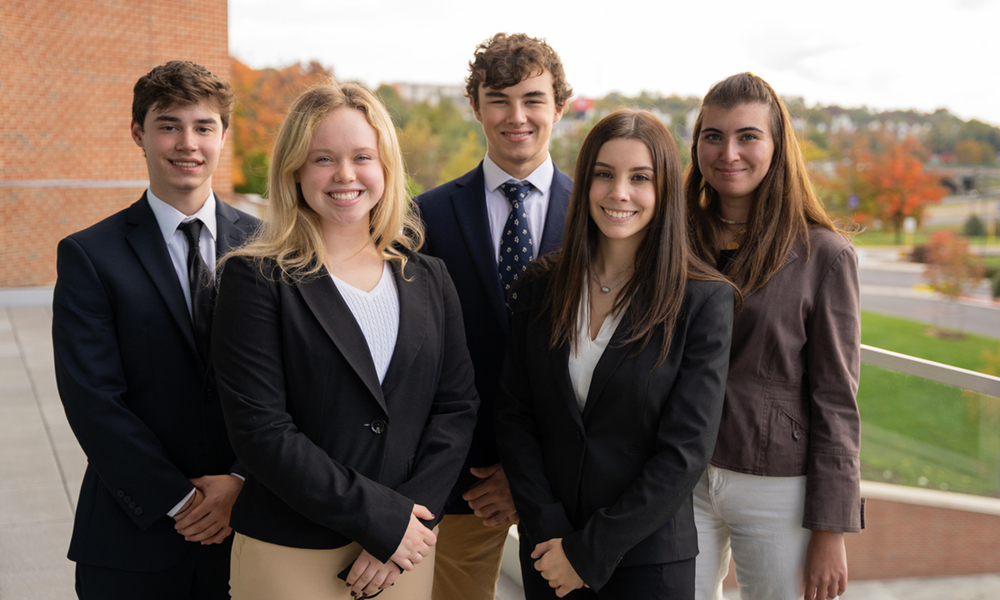 SUMMARY: Teams sharpen critical thinking and communication skills by answering the 'PwC Challenge.'
---
Students experienced first-hand the competitive worlds of public accounting and professional services this past Friday when the Beta Alpha Psi / Financial Professionals Club co-hosted (with Price Waterhouse Coopers) a JMU-specific edition of "The PwC Challenge."
The "Big Four" global accounting network's entry-level case competition is now in its 20th year on U.S. college campuses. It models real-world business scenarios that raise some of the strategic issues companies are currently facing.
Nine JMU students accepted the challenge and formed themselves into teams. The competition was open to anyone with a major in the College of Business, as well as those enrolled in STEM-type programs elsewhere at JMU.
"This is the first year we've done it," said Matt Reidenbach, an assistant professor of accounting who serves as the faculty sponsor of Beta Alpha Psi, JMU's financial professionals club.
The club hosted a kickoff event on October 15 to attract first-, second-, and third-year students with an interest in the College of Business.
The competition itself took place in-person on Friday afternoon, and was presided over by three PwC judges who are also JMU alumni − Carter French ('12, '13M), David Gutierrez ('17), and David Sands ('01).
Students assumed roles as business consultants, with the PwC judges role-playing as potential clients.
Teams were asked to consider whether a hypothetical consumer-appliance manufacturer should expand on its established wholesale-only approach to sales and distribution, and begin offering a direct-to-consumer model as well. In addition to projecting the likely outcome of such a shift in business strategy, teams were required to provide plans for implementation.
They were given 10 minutes each to present their solutions.
First place went to Team Dunkn' Dukes, comprised of Maya Altaher, Ethan Coyle, Nicole Dowd, Zack Marshall, and Annamarie Mulroy. The runners-up from IBCI PwC Consulting included Ian Haworth, Beau Richardson, Christopher Ventura, and Isabella Wylie.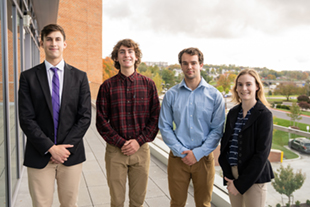 "The teams really did their homework and carefully went through the case materials," said French. "You could tell that a lot of effort was put into the presentations."
French and his fellow judges weren't so much interested in the specific answers given as in the process and chains-of-reasoning leading to those answers, noted Reidenbach.
Each member of Team Dunkn' Dukes was presented with a $250 gift-card.
"The teams really did their homework and carefully went through the case materials."
Carter French ('12, '13M); Judge, PwC Challenge
With experiences like the PwC Challenge, Reidenbach said, JMU is trying to increase interest among its business students in the accounting and finance options available to them after graduation.
"We're trying to create options outside the classroom for students to learn what the possible careers might look like," he said.