College of Business
Hart School event makes run for racial equality
---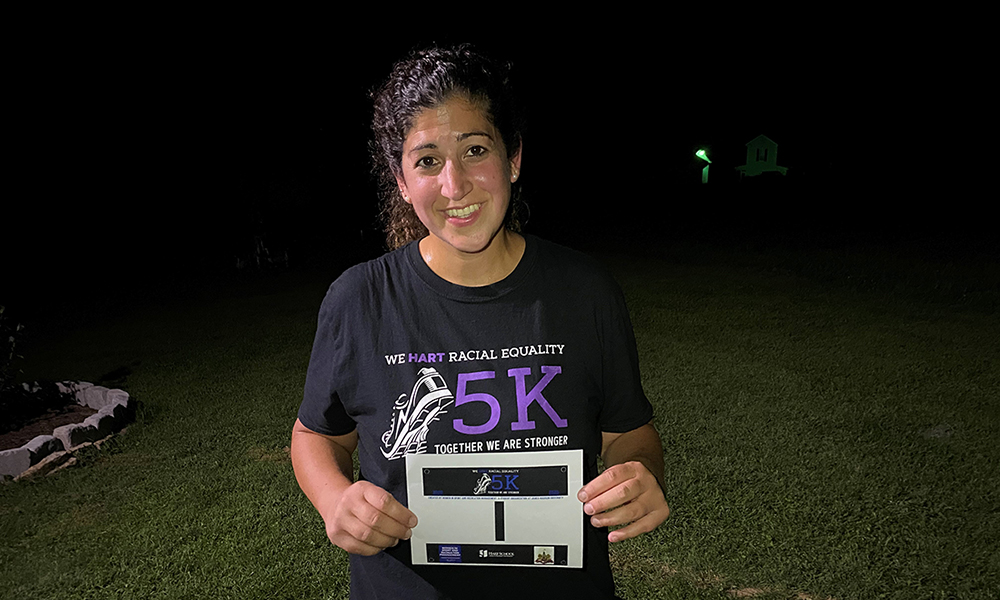 Running can seem like a solitary, sometimes difficult pursuit. After all, it's done alone, with one person facing their own challenge. But when you assemble hundreds of those individuals for the purpose of facing the same challenge, nothing can keep them from success.
That's why the Women in Sport and Recreation Management (WSRM) club at James Madison University decided to organize the first-ever We Hart Racial Equality Virtual 5K. "We created this event in response to the racial injustice going on in our country," said Breighan Szajnecki, president of WSRM and a sport and recreation management major. "At its core, this event is aiming to be a supportive and helpful voice in a conversation that we should have had a long time ago. The benefits of higher education should not be limited to a specific race or economic level, and being even a small part of that change is why having this virtual 5K is so important."
Being virtual was the only option, and one that made this event stand out from other 5Ks, where the runners all must be in the same place at the same time to participate. Instead, it was spread out over time and space, starting on August 28, the 57th anniversary of the March on Washington where Dr. Martin Luther King Jr. gave his "I Have a Dream" speech, and running until September 7. It also allowed for more than 470 participants from all 50 states and D.C. to participate.
Some motivated alumni have gotten in the game too. Ben DiNucci ('20), quarterback with the Dallas Cowboys and JMU alumnus, partnered with WSRM to promote a pair of custom ISlides sandals, in a limited-edition run of 1,000 pairs. A portion of the proceeds from each sale will help support the creation of an endowed scholarship for underrepresented students studying sport and recreation management. Along with Justin Kittredge ('00 HM), founder of ISlide, and Ted Yeschin ('00 SRM), VP of talent marketing at sports and entertainment agency Wasserman and a Hart School Advisory Board member, the trio landed on the idea to enlist the help of two designers that have ties to key aspects of DiNucci's life. The result is a collaboration between alumnus Roddy Jones ('20 SRM) and Czaria Cole, a 17-year-old member of the Boys and Girls Club in Dallas, a community partner of the Dallas Cowboys.
"Since its inception, Women in Sport and Recreation Management has strived to be the change and fight for equality," faculty advisor Alyssa Bosley said. "The results speak for themselves, as we had participants from ages two to 83 come together to support racial equality. Through donations, registrations and sponsorships, we were able to raise nearly $30,000. Our goal of creating a scholarship for underrepresented SRM and SRL students can become a reality, thanks to the generosity of others."
After the event, Szajnecki added, "Seeing members of the JMU community, both past and present, come together the way they did to support what's right was easily the most rewarding part of this experience for me. I wish I could individually thank every single participant for their support for this club and our cause. It made WSRM's first year as a club all the more worth it."