College of Business
A message from the Dean of the College of Business
---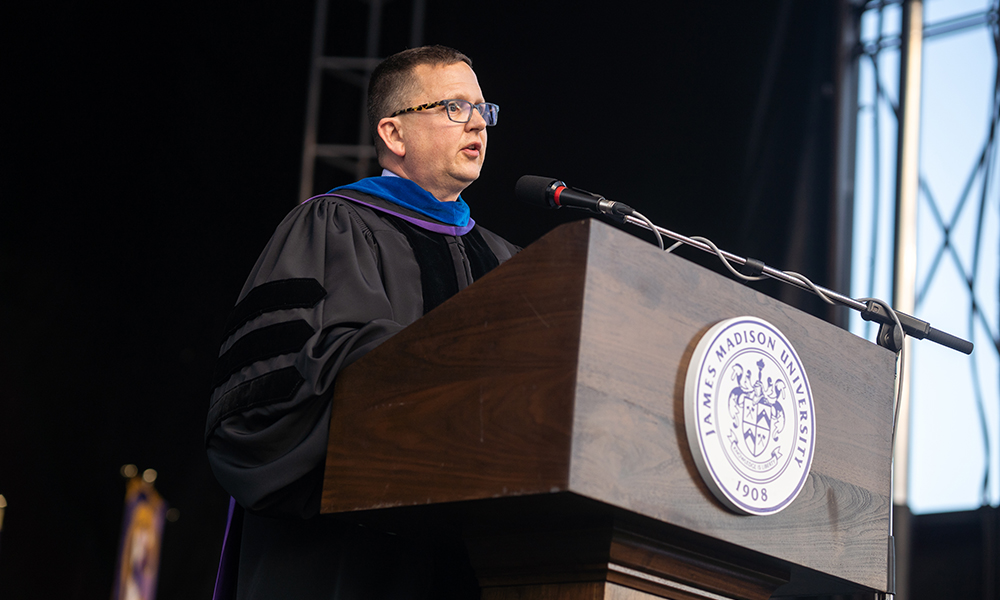 ---
Dear May 2020 College of Business Graduates,
Greetings and congratulations! We truly wish that you and your loved ones could be here with us at JMU to publicly recognize your degree completion. We do look forward to being together soon, at a formal ceremony, where we will properly celebrate your academic success.
Your graduating class represents the next generation of leaders of businesses and organizations of all types. Some of you will head to Wall Street, while others will launch new business ventures. Hart School graduates will assume positions in sports management fields or in the hospitality industry. And, some of your class will serve as leaders of non-profit organizations.
You are indeed impressive. As a May 2020 graduate, you are joining an equally impressive group of alumni, many of whom represent leadership at Fortune 500 companies, are successful serial entrepreneurs or who serve as leaders in their communities. It is well known that JMU alumni are intentional about reaching back and opening doors for those who follow them. So, I challenge you to continue the tradition.
As you transition into your professional life, I strongly encourage you to strengthen your engagement with James Madison University and the College of Business. To facilitate this, we maintain very active alumni chapters in major metropolitan areas. Please visit JMU Alumni Association for more information and to find out how you might engage with your nearest alumni chapter. Our Office of Professional Development and Engagement (OPDE) in the College of Business depends upon your time and talent for high quality experiential programming opportunities and for supporting the vast and ever-growing JMU professional network. Please visit OPDE's homepage to find out how you might become involved.
You leave JMU with state-of-the-art skills and abilities and a passion for life-long learning. As you find it necessary to sharpen your skillset, we would like for you to consider one of our many continuing education opportunities at JMU such as the Master of Business Administration degree program or the doctoral degree program in Strategic Leadership Studies.
On behalf of Associate Deans Kimberley Foreman, Molly Brown, and Scott Gallagher – and the entire College of Business faculty and staff – I want to offer you our best wishes for good health, happiness and success. Go Dukes!
Michael E. Busing, Ph.D.—Dean, and the Betty Coe ('64) & Paul J. Cinquegrana Endowed Chair in Business Ethics and Leadership