Finance
Finance faculty honor outstanding graduates with awards
---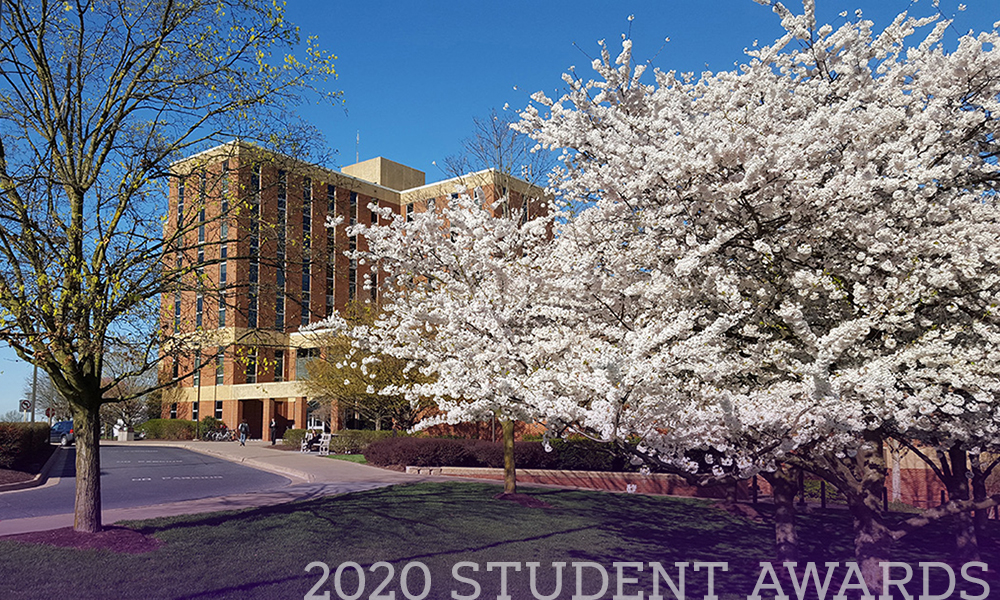 ---
On behalf of the faculty of Finance and Business Law, I want to congratulate the five award-winning students from the Department of Finance and Business Law. They not only demonstrated academic excellence, but most importantly, they showed leadership, engagement and service. The award winners have exemplified our mission to prepare students to be principled, productive contributors to business and society. – Hui Sono, Department Head, Finance and Business Law.
The 2020 award recipients include:
Morgan Cox, Finance major with a concentration in risk management—Outstanding Senior in Finance. Morgan is the valedictorian for the College of Business; she is also an NCAA Division I collegiate golfer and is the co-founder and vice president of the JMU Women in Business Club.
"I was born and raised in Pickens, South Carolina and was fortunate to find JMU through the collegiate golf recruiting process. In the past four years, I've learned more than I ever thought was possible, and I want to thank my family, professors, peers and our alumni for challenging and supporting me. I will be joining Credit Suisse in New York City after graduation, and I can't wait to be a proud and active alumna of this finance program!"
Samantha Dawkins, Quantitative Finance with a concentration in risk management/Mathematics double major/Economics minor—Outstanding Senior in Quantitative Finance. Samantha interned at HSBC at the end of her sophomore year, and at the Goldman Sachs analyst program at the end of her junior year. She will join Goldman Sachs in New York City full time after graduation.
"I was born and raised in Fairfax, Virginia and will be moving to New York City to begin my career in fixed income asset management at Goldman Sachs. I am grateful to have been blessed with the most wonderful four years at JMU, and I have enjoyed immeasurable and genuine support from my professors and the steadfast camaraderies I have developed with all of my friends—my instructors and my fellow students. I will always treasure my time at JMU and I will always rejoice in the exciting successes and, even more so, the humbling failures that I have encountered that have made me emotionally stronger and intellectually smarter. Yet, most importantly, I thank God—whom all of my successes could not be possible without—for disciplining me through these years at JMU and the years to come as I begin my professional journey."
Julia Cumins, Finance major/Pre-Dentistry minor—Faculty Award for Excellence in Finance. During her time at JMU, Julia worked as a research assistant and volunteered at many places, including the Remote Area Medical Clinic at Harrisonburg. Besides her perfect major GPA, she is a kind and giving individual. Both Julia's father and her two older brothers graduated from JMU.
"I am a finance major with a pre-dental minor from Aldie, Virginia. As the fourth person in my immediate family to attend JMU, I grew up visiting the campus and attending football games. JMU has always been a special place to me, and I look forward to staying closely connected with the College of Business. The knowledge I've gained and the meaningful relationships that I have formed with both students and staff at JMU have influenced me greatly. After graduation, I will be attending the VCU School of Dentistry in Richmond, Virginia. I hope my finance education will help me to build a flourishing dental practice one day."
Taylor Wilk, Finance major with a concentration in financial analysis/Business Analytics minor—Faculty Award for Excellence in Finance. The faculty in Taylor's major recognized that she not only learned how to analyze financial data, but also showed excellence in communicating her analysis.
"Post-graduation, I will be returning to my hometown of Fairfax, Virginia to work as a financial analyst at Fannie Mae in their D.C. office. While I am excited to start my career, I am extremely sad to see my time at JMU come to a close. JMU has provided me with the opportunity to make what I hope to be lifelong friends, form relationships with professors, continue to pursue my love of dance and most importantly, teach me the necessary hard and soft skills to succeed in the field of finance."
Kirsten Ziviello, Quantitative Finance major with a concentration in risk management/Mathematics and Economics minors—Faculty Award for Excellence in Quantitative Finance. Kirsten is a member of business honor society Beta Gamma Sigma and the treasurer of the JMU Ski and Snowboard Racing Team. She also worked as a math and econ tutor in her junior and senior years.
"I'm from Ashburn in Northern Virginia, and I went to Briar Woods High School. After graduation I'm moving to Denver, Colorado to work for KPMG Ignition doing data and analytics. I enjoyed spending my four years at JMU surrounded by friends and making unforgettable memories. My favorite moment at JMU is winning second place at the USCSA Snowboarding National Championship with the JMU Ski and Snowboard Racing Team."