Professional Development and Engagement
Networking from home in a virtual career trek
---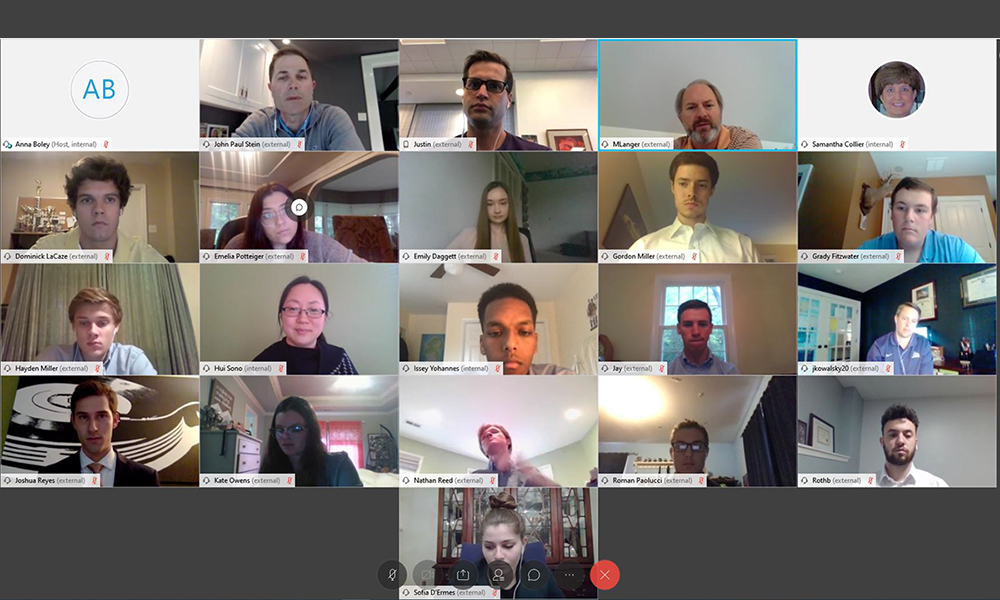 Usually held during visits to College of Business partner offices in New York City, Richmond and Washington D.C., career treks are an opportunity for students to not only get insider perspectives on working in their chosen field, but to also hone their networking skills. Quite a few past trek participants have managed to parley the networking experience into an internship or open the door for a full-time job offer.  
As the students' unorthodox spring semester continued to necessitate creative ways to offer the same high-quality programs, the Office of Professional Development and Engagement (OPDE) had to adapt their traditional career trek approach to one that could be done from home. "The biggest challenge was making sure that our technology would work and provide a good experience for both our students and speakers," said Sam Collier, director of the OPDE.
Fortunately, they also had some terrific resources. "Our alumni were very happy to participate and excited that the JMU College of Business pivoted to a virtual experience so that the students would not miss out on the opportunity to learn and network with them," said Collier. "This is the 11th year of this Career Trek and we wanted to keep it going no matter what!"
Collier and OPDE assistant director Anna Boley worked to gather 15 professionals for 11 one-hour sessions over five evenings. The casual nature of the meetings and conversations elicited advice on career advancement, resume building, standing out, being open to career moves and changes and the need to always be curious and ask questions.
For rising junior finance major Kate Owens, the experience was eye-opening. "My knowledge of the finance world has grown exponentially from two weeks ago, and I also have realized I am quite literally just starting to scratch the surface of everything there is to know about the industry," she said.
Owens already understood the power of networking; after all, she was encouraged to participate in the career trek while networking with fellow finance major and JMU Golf team member Morgan Cox, but she was further encouraged by the interactions with the professional alumni. "It is extremely nice to now have this network of generous individuals that want nothing more than to see you succeed and want to help get you where you want to go," Owens said. "They are on my side and want to be there for all of us students to help us win, whatever that might look like for us."
For alumnus Adam Armiger ('07, finance) from DRA Advisors, this career trek was a little different than the others he has been involved in, but no less effective or important. "I was the benefit of a number of great alumni mentors over the years and I wouldn't be in my seat today if it wasn't for those relationships and the guidance that I received from them," he noted. "It's important for these students to know that these opportunities exist and for us to teach them how to leverage them for their own career growth."
Given time to reflect, Kate Owens discovered even more value in the experience. "It all has come at a great time and provided us students with a way to make this summer one that is not put on halt by something out of our control like the corona virus, but instead opened it up to be something that could be lifechanging in all of our futures."