COB 2020
Updating the Gaglioti Capital Markets Lab
---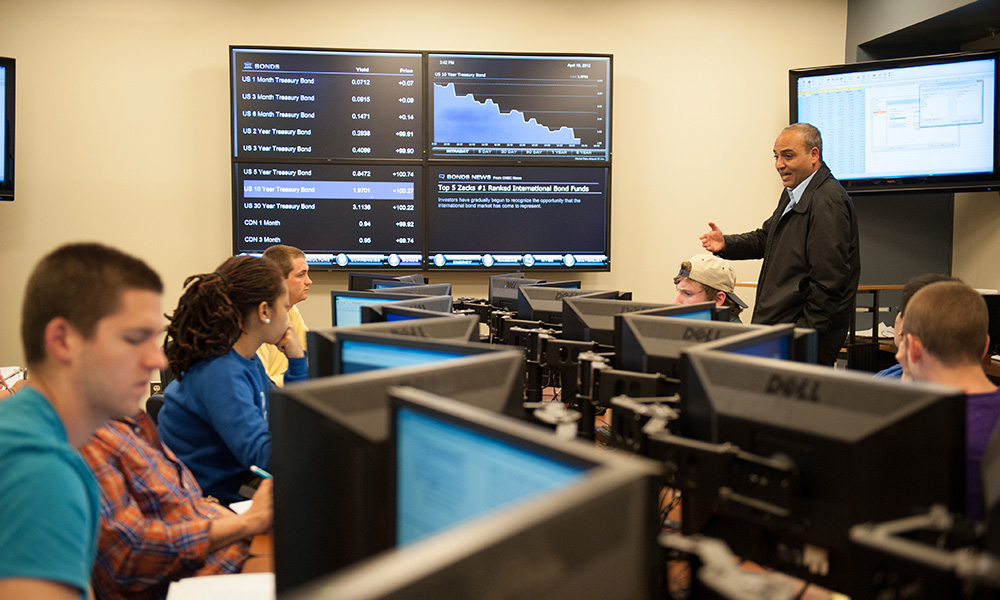 Pictured: Dr. Elias Semaan teaching in the Gaglioti Capital Markets Lab.
---
In discussing the upcoming Learning Complex, the focus is often on the new spaces that will be available for students and faculty. But an important and exciting aspect of this project are the enhancements that are underway to existing spaces.
The Gaglioti Capital Markets Lab was established in 2011 through a generous gift from Enrico Gaglioti ('94), and is one of the areas that will receive a comprehensive makeover in its new location. The compact space will be enlarged to accommodate more students, and a board room will be attached that can function as a multi-use area. 
The lab will feature computers at every seat, with access to important industry software applications such as SAS, Analytic Solver and Crystal Ball. Bloomberg terminals will keep the students and faculty connected to up-to-the-minute and relevant data for the finance world that is vital to their research and learning. 
Anticipating the upgrades, finance professor Elias Semaan, who teaches classes in the lab, said "Having more breathing space and flexibility will be a very welcome change. Being able to offer students the opportunity to use the financial resources that professionals use and to become certified on the Bloomberg terminals gives them an edge in the job market."