College of Business
SSLS goes virtual for doctoral dissertation defenses
---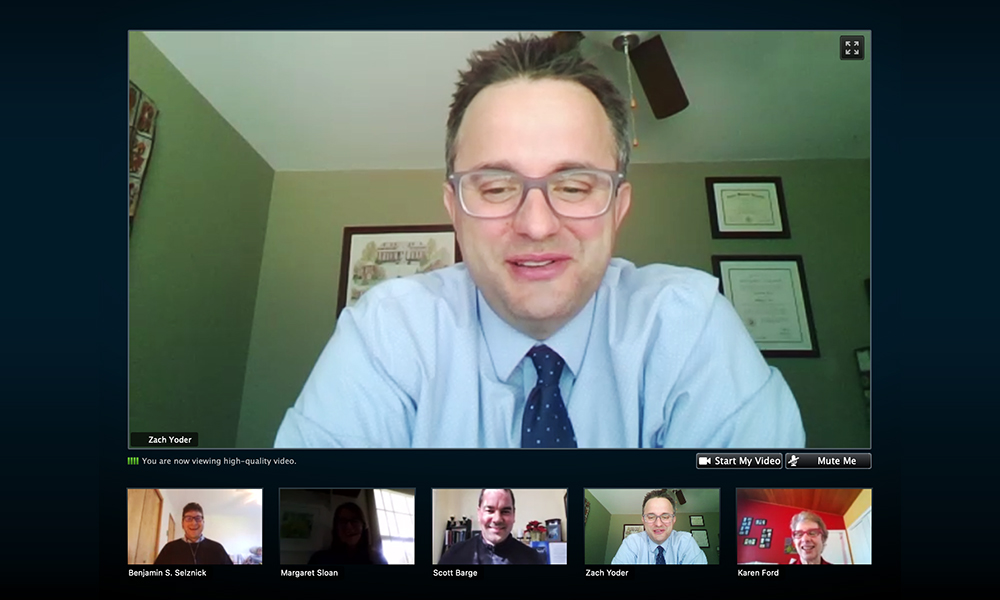 Pictured: School of Strategic Leadership Studies PhD candidate Zach Yoder defends his dissertation via video conference
---
Few steps in earning an advanced degree are as fraught with anticipation as the preparation and completion of a doctoral dissertation defense, the final step in earning a Ph.D. Benjamin Selznick, professor of leadership studies, explains, "After a successful proposal defense, the student completes their dissertation research and works with their chair to produce a final product. The dissertation is then sent to the faculty committee and the second defense, the dissertation defense, is conducted. Once a student successfully completes their dissertation defense, they have completed the program, hold their PhD, and get to be called Doctor."
This defense is traditionally held in a face-to-face meeting that lasts one to two hours. During this time, the student gives a presentation, the committee then asks questions, engages discussion points and offers feedback. The committee then confers and a decision on how to proceed is reached.
This semester, students in the School of Strategic Leadership Studies program have shifted their proposals and defenses online, due to the need for social distancing. But both professors and students have made the adjustment smoothly, and found it to be an effective alternative as well as a chance for greater learning. "Interestingly, we've found that some of the best parts of the defense – the student giving their presentation and the opportunity for robust conversation by faculty – remained largely unchanged, to the benefit of the student and their work," says Selznick.
He also sees opportunity for learning from a JMU standpoint in working this way. "Students' career trajectories sometimes take them away from Harrisonburg prior to the final defense and even sometimes the proposal defense. Having this format ironed out could be helpful in those cases, allowing students to meaningfully make progress without necessarily needing to travel back for the event," Selznick says.
"As our students' topic interests expand, we will continue to draw on faculty experts outside of the JMU community or even the Commonwealth," he continues. "In these cases, leveraging the distance format could allow us to expand committees to further include topic experts when their voices and feedback will enhance the overall quality of the research, its potential reach, and its possibilities for publication and dissemination."
For newly minted Ph.D. Zach Yoder, the change wasn't significant in terms of preparation. "There was not a lot of adaptation that needed to happen. I already had the required equipment at home to adapt to the virtual format. I had my PowerPoint ready to go for my defense so I didn't really need to prepare any new documents. I did a practice session on WebEx with Brooke Rhodes, the education and support specialist from SSLS, to make sure all the logistics were worked out and the screen sharing permissions, microphones, and videos were working properly," Yoder explains.
There were some trade-offs; however, Yoder was still very happy with the outcome. "I thrive on personal connections so it was disappointing to not be in the same room as the committee members, all of whom have helped me tremendously in this journey. But I was also incredibly thankful that I could still defend on time and not have to postpone it," Yoder says, adding, "I got to wear gym shorts with my shirt and tie during the presentation so that was awesome!"