Economics
Student comes full circle at JMU GEM Fair
---
Above: Middle school students collaborate during the 2020 GEM Fair
---
JMU student Lydia Manson found herself reliving a childhood highlight recently when she presented an award at the Global Entrepreneurship Marketplace Fair (GEM Fair), an annual entrepreneurship event organized by JMU's Center for Economic Education (CEE).
The process for the fair begins with training funded in part by the Shenandoah Valley Economic Education and coordinated by the CEE, where area teachers learn to conduct a unit of classroom simulation called the Mini-Economy. Each classroom forms a society with a student-chosen name, currency and governing system, then brings the products they made to the GEM Fair for a simulated international marketplace with a common currency, the GEM. Participating classes submit competing designs for the GEM currency, which is patterned after the euro.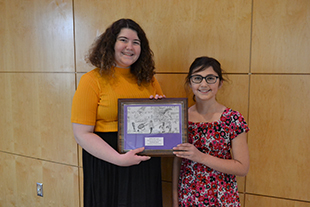 As a sixth-grade student nine years ago, Manson won the GEM currency design contest and remembers the day well. "I was so excited to meet and interact with other students from different schools, and to see what they had done to prepare," she recalls. "I hadn't known that I had won the money design contest until my teacher handed me my money for the day."
She returned this year to present the same currency design award to Kathryn Bush of Smithland Elementary School, whose entry was chosen by judges from longtime corporate partner Atlantic Union Bank.
Now a double major in psychology and writing, rhetoric, and technical communication, Manson credits the GEM Fair with developing entrepreneurial skills that she has sharpened at JMU. "I believe that my JMU education has encouraged me to be more entrepreneurial, ambitious and independent," she said, adding, "My coursework has helped me learn more about myself and my values, and led me to be a self-starter. At this point, I hope to work for a non-profit and give back to the community once I am done with my undergrad, then return to school for my master's degree."
In addition to the money design award given at the GEM fair there were prizes for:
Best product

/span>

Best marketing strategy

Best Customer Service

Outstanding Young Entrepreneurs of the Year

Best currency design