Economics
Local family benefits from economics faculty service project
---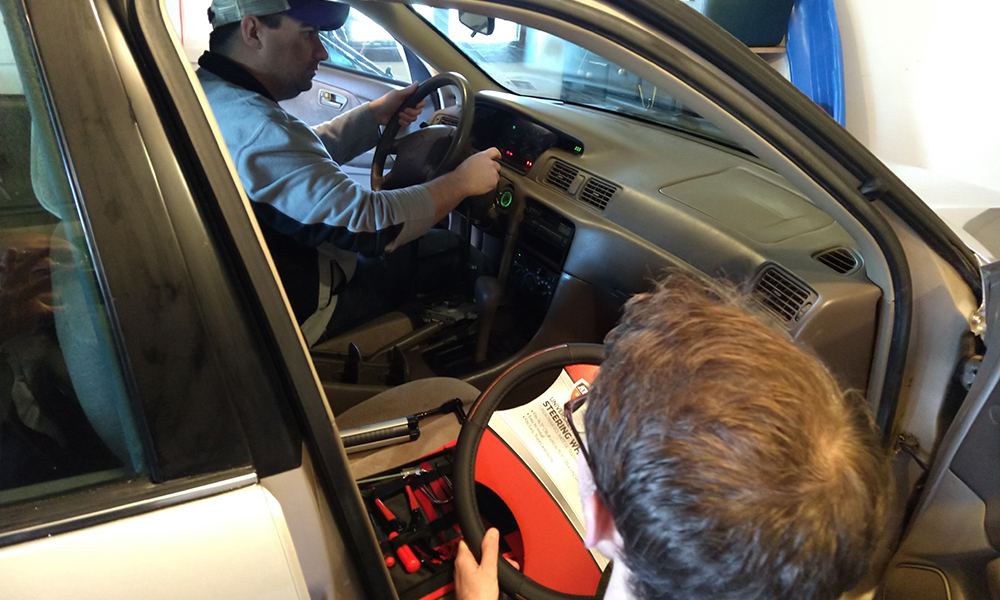 Above: Associate Director John Kruggel of the JMU Center for Economic Education, left, and Assistant Professor of Economics Benjamin Hamilton, work on the department's project car.
---
A local family was recently awarded a car by Way to Go, Inc., concluding a service project that began in January. The car, a 1997 Toyota Camry, was donated  by an anonymous economics faculty member as part of the JMU College of Business Martin Luther King, Jr., Day of Service.
"This car has a lot of life left in it and it should serve well for years to come," said Benjamin Craig, executive director of Way to Go, a nonprofit organization that empowers low-income, working households in Harrisonburg-Rockingham to improve their quality of life by assisting them with their transportation needs.
Several economics faculty members volunteered their time to wash and wax the car, and reinstalled a functioning sound system. They also spiffed it up with interior accessories including a new steering wheel cover and new floor mats. Additional mechanical work was completed by Way to Go partner Ray Carr Tires.
 "I've never been in a position like this before and I don't like being a hindrance on my friends and family," said the recipient, who is a single mother. "This will definitely allow me to be more independent and take care of things I need to get done as well as benefit my son."