Computer Information Systems
CoB CIS/BSAN shines at SEDSI
---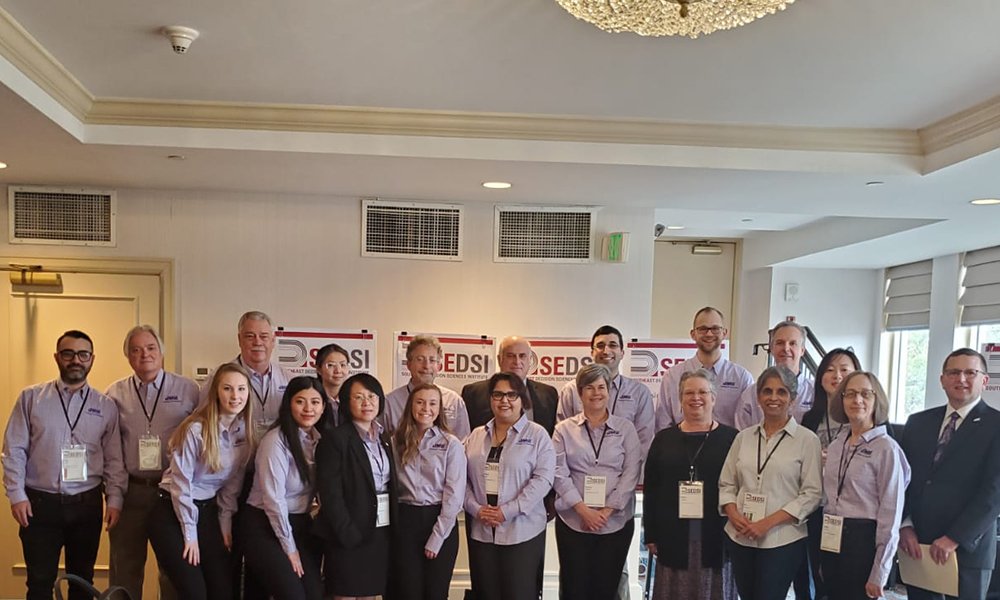 Above: CoB faculty, staff, students and dean Mike Busing at the SEDSI Conference.
---
The CoB CIS/BSAN brought its a-game to the 50th annual meeting of the Southeast Decision Sciences Institute (SEDSI) in Charleston, SC, recently, with members of the faculty, staff, student body and even dean Mike Busing attending or participating.
SEDSI is the southern member of The Decision Sciences Institute, an international association dedicated to advancing knowledge and improving instruction in information systems, analytics and supply chain management. Each year SEDSI holds a conference to share research that seeks to improve decisions involving systems, technology and processes.
With over 40 faculty and students in attendance, JMU had the largest group of participants this year (and in 2019) and was able to land this unique triple-double 10/10/10:
Over 40 faculty and students were authors and co-authors (over 10% of the total number of authors and co-authors were JMU)
Over 20 submissions (about 10% of the total number of submissions were JMU)
Over 25 of them presented their work and support the conference besides many serving as reviewers and session chairs (10% of the total attendees were JMU presenters)
CIS/BSAN professor Ping Wang served as the conference chair. "The support we received from our colleagues at JMU played a significant role in the success of the SEDSI 2020," Wang said. "Since the registration fees were low and not sufficient to cover the expenses associated with the conference, SEDSI 2020 would not have been successful without the support from our institutional sponsors and exhibitors." Wang also credits the promotional efforts of the CoB with helping to generate the highest amount of sponsorship ever, twice or three times higher than those in the past for SEDSI.