Computer Information Systems
Turning words and stories into interactive data points
---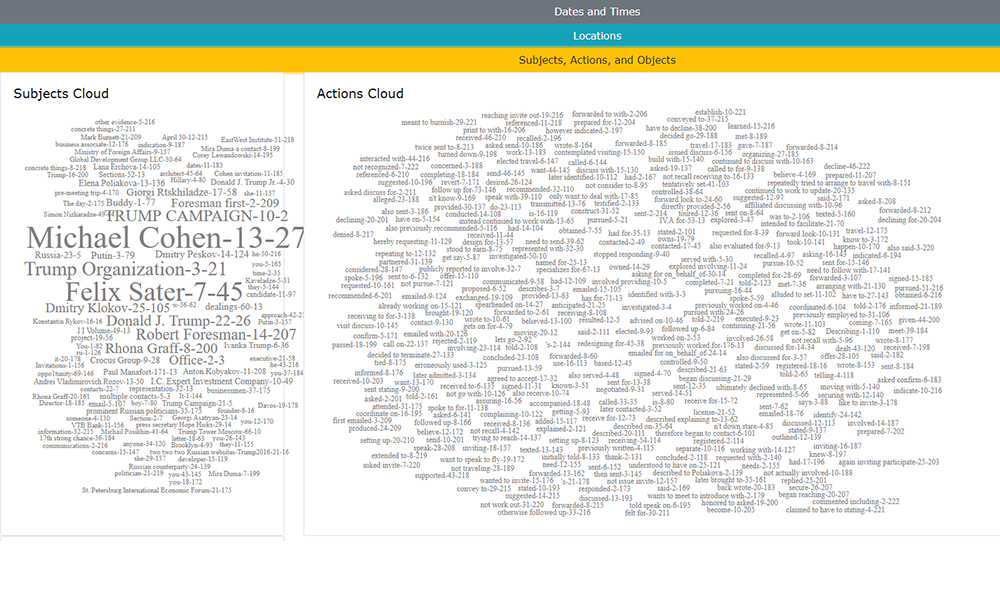 Above: Screenshot of a word cloud generated by Michael Mitri's Story Analyzer software
---
CIS/BSAN professor Mike Mitri has developed a fascinating software system that he has aptly named Story Analyzer. Mitri's software uses AI, natural language processing and data visualization to read the text of a story narrative and produce a dashboard that helps users visualize, identify and understand the main characters, interactions, places, times and themes of the story.
Over the past several months, with help from JMU student research assistants, Mitri created dashboards generated from the text of several official documents related to recent impeachment testimony. "Each of these documents tells a story," Mitri notes, "in that they involve people and groups of people interacting with each other in certain places and at certain times under certain contexts."
Mitri started in the summer, with dashboards visualizing most sections of the Mueller Report. As the impeachment hearings unfolded, he created dashboards of impeachment witness testimony, a few chapters from the Horowitz Report, part of the House Impeachment Report and several other public official documents, even including President Trump's 2020 State of the Union address.
In principle Story Analyzer should be applicable across a wide variety of subjects of interest, including news articles, legal documents, and business case stories. "I even applied Story Analyzer to the Harry Potter plotline, a Civil War narrative and a biography of Abraham Lincoln, all from Wikipedia articles," Mitri says.
Mitri also looks forward to outside engagement with his project, saying, "I invite you to play with these dashboards and especially the overview dashboard. Any feedback will be welcome. Story Analyzer is a work in progress and I'm always working on improvements."
Mitri's software can be seen and interacted with at www.storyanalyzer.org.