Hart School of Hospitality, Sport and Recreation Management
Providing hospitality for industry giant
---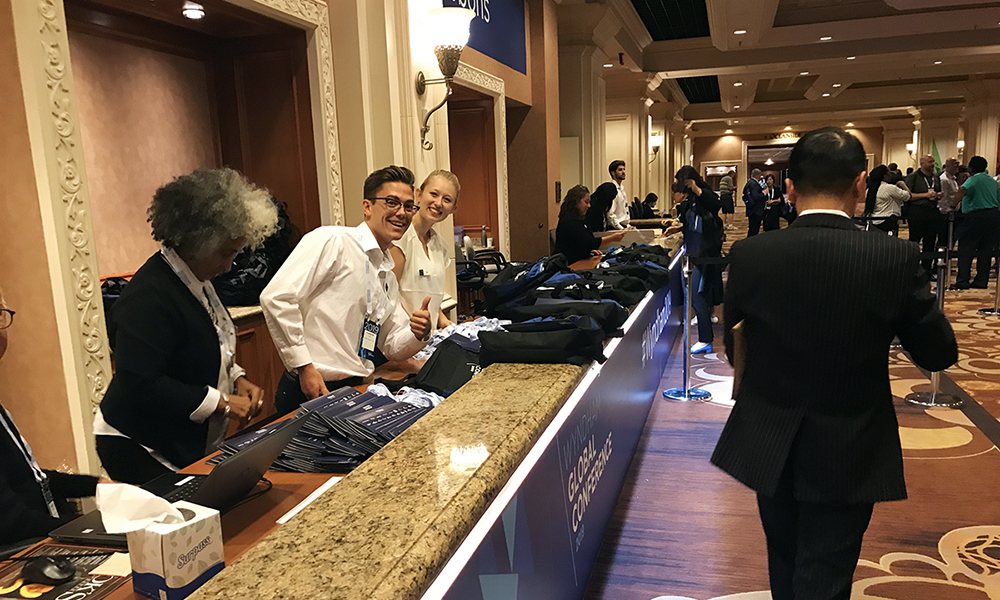 Above: Students share their enthusiasm as part of the Wyndham Global Conference in Las Vegas, Nevada
---
Twelve hospitality management students from the Hart School of Hospitality, Sport and Recreation Management were recently invited to work with Onyx Meetings and Events in the execution of the Wyndham Hotels & Resorts Global Conference in Las Vegas, Nevada.
This was a great experiential learning opportunity for students to turn knowledge they learned in the classroom into real life practice. In this case, providing hospitality for a group of around 6,000 attendees from one of the premier hotel and resort organizations worldwide, with locations in the U.S., China, Canada, Mexico, Turkey, Germany, the UK, and more.
Senior hospitality major Madelyn McGeary said, "The Wyndham Global Conference was an amazing opportunity to learn hands-on everything that goes into producing an event of that size. We worked with a variety of teams, including food and beverage, meetings, special events and registration, and were trusted to support the team in executing their large-scale conference. It is one thing to learn these concepts in a classroom but seeing it all happen in person is extremely beneficial to our overall education."
The expenses for the trip were covered in part by the Hart School, through donations to funds such as the Hospitality Tourism Management Fund. These funds help to provide landmark experiential learning opportunities for students that enrich their education and prepare them for success in their career.