Professional Development and Engagement
Making the connections that matter
---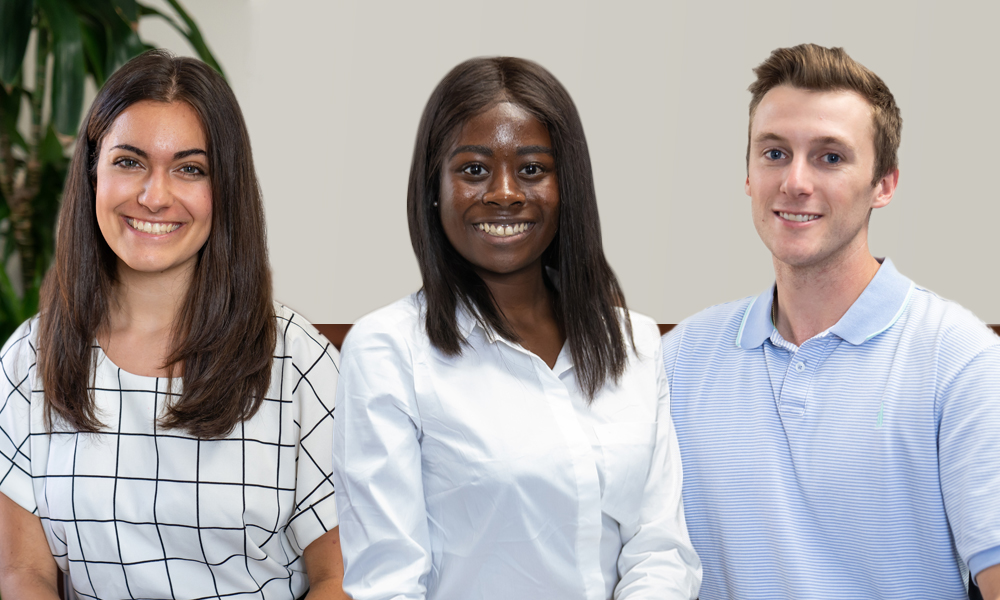 Pictured (L-R): Lauren Calderaro, Samantha Dawkins and Charlie Dean
---
For students returning to campus in the fall, it's not just a time to open books and start studying. Many take advantage of professional development opportunities at the College of Business that open doors to their careers, even before they graduate.
The process begins early. In their sophomore year, students are required to participate in "Career Kickstart," a program that helps them polish their resume, create their elevator pitch, establish their LinkedIn profile, and more. With career fairs, employer visits to campus, student organizations and faculty connections, the path to success is theirs to choose.
Some seniors even have job offers in hand as they begin their final year of study. Here's the story of how three from the class of 2020 did just that:
Lauren Calderaro, a senior finance major, took advantage of a program through the Office of Professional Development and Engagement that paid dividends for her.
"I attended the CoB Career Trek to New York City following my sophomore year. This incredible experience gave me a perspective on what working in banking would be like in New York; during this trip, we visited Goldman Sachs and this visit really encouraged me to apply to their summer internship program for 2019. I interned with the firm in their Sales and Trading division, which led to my full-time offer post-graduation."
Samantha Dawkins, a senior quantitative finance major, found a path forward through a discussion with a faculty member.
"Through Dr. Hui Sono, I discovered the Goldman Sachs Undergraduate Camp, a networking program for minorities, which I attended freshman year. She later told me of an opportunity brought to her by alumnus Jeff Kowalski, which led me to an internship at HSBC Global Markets. With the experience I gained, I was offered and accepted an internship with Goldman Sachs for Summer 2019, and received a post-internship offer from Goldman Sachs in August prior to my senior year."
Charlie Dean, a senior finance major with a European business concentration, paved the way for success by getting involved in a student organization.
"I joined Beta Alpha Psi in my Sophomore year. I attended an event hosted by RSM and met several recruiters and employees there. During the Summer of 2017, I attended the RSM externship program in Boston where I met many employees in several lines of business. Soon after, I accepted an internship offer for Stamford, CT to work in their Risk advisory practice. In August of 2019, I accepted a Full-time job offer to work in RSM's Risk Advisory practice in New York City.

I can attribute all of these opportunities to the organizations I joined and the people I met through the College of Business. All of this has been extremely important to the development and the success I have achieved in my professional career thus far."
And this comprehensive approach to student career preparation and education is working for many, many more at the College of Business. The latest data shows that 95% of CoB graduates from 2018 are employed, continuing education, or engaged in other career related endeavors 6-months post graduation.