Hart School of Hospitality, Sport and Recreation Management
Undergraduate research program sees success with disability sports
---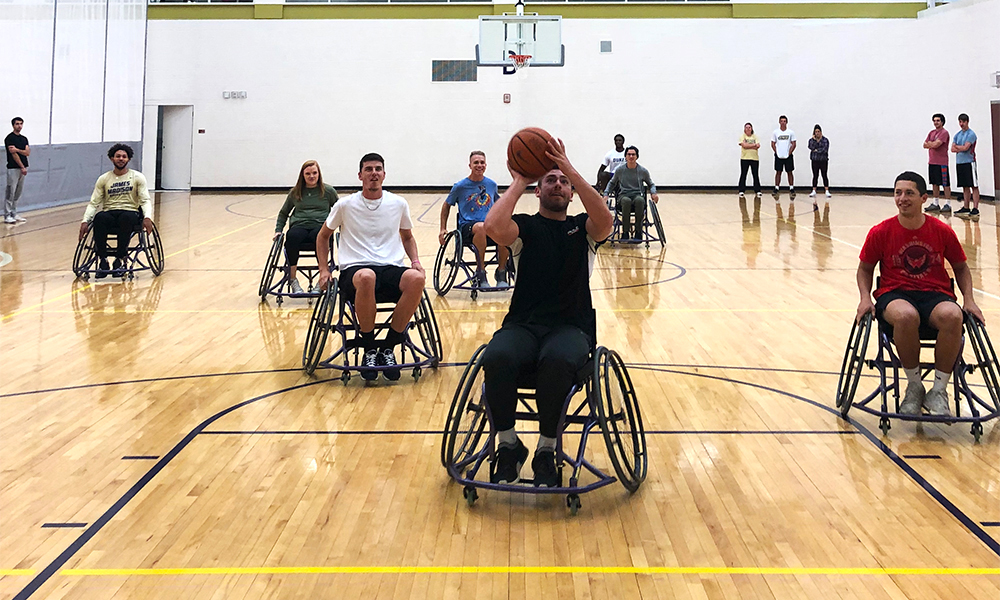 ---
Hart School of Hospitality, Sport and Recreation Management professor Josh Pate brought his interest in disability sport into the research arena, and with the help of a motivated undergraduate student produced the first publication from the Research Experience for Undergraduates (REU) program for the Hart School.
Titled "Challenges of an established amateur sport: Exploring how wheelchair basketball grows and thrives through a sport development lens," the resulting paper explored national Wheelchair Basketball Association teams and the barriers those teams face with regard to sustainability, as well as how they recruit and retain athletes.
Current junior quantitative finance major Danielle Bragale was a freshman when she worked with Pate via the REU program, which pairs undergraduates with faculty conducting research. Bragale handled the literature review, which Pate says is "a good entry point for students or young scholars to get them involved in the research process."
Because of her input, Pate decided to share authorship with Bragale, and their work was published in the Journal of Amateur Sport in July. The results were in line with and served to strengthen established scholarship on the issue.
Pate called the experience "very beneficial for faculty, at least in our department, because it's helping to support some of our research agenda—but it's also an extension of the education process." He was impressed with his student co-researcher, saying, "I gave her expectations to meet that she surpassed every single time and met every single deadline with ease."
Read more: Danielle Bragale's summer with the Girls Who Invest program.