Economics
Women in economics: a great time to enter the profession
---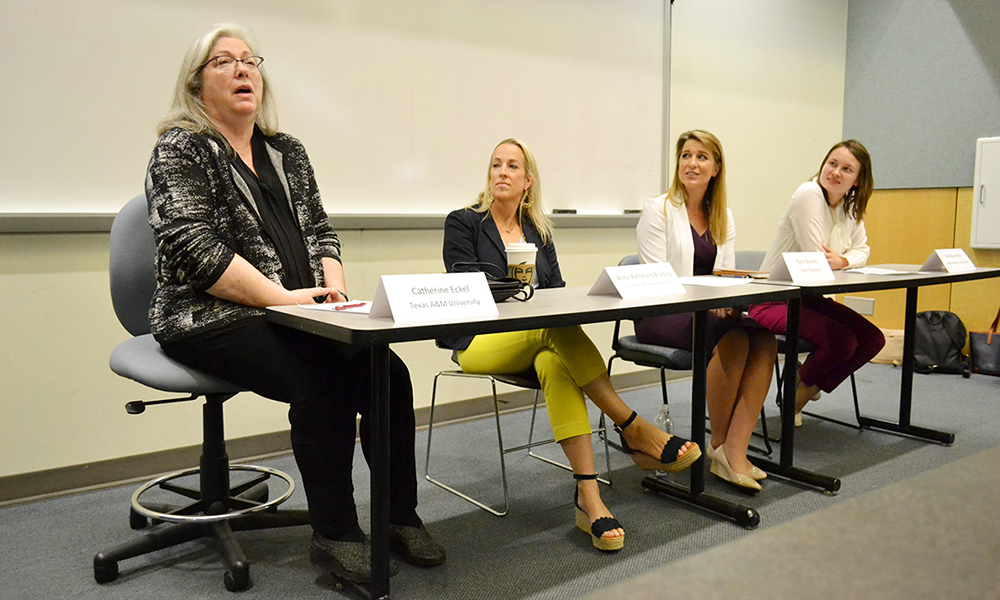 Pictured (L-R): Catherine Eckel, Anne Rathbone Bradley, Karen Bourne and Sasha Naumenko
---
Now is a good time for female students to seek degrees and careers in economics, but it has not been that way long and there are struggles still for women in the field. That was the consensus of four panelists, all women degree holders in economics, assembled Thursday by the James Madison University College of Business.

The panel was part of a visit by distinguished guest lecturer Catherine Eckel, who is the Sarah and John Lindsey Professor in the Liberal Arts and University Distinguished Professor in the Department of Economics at A&M. As the leadoff panelist, Eckel spoke Thursday on "Gender Differences: What Have We Learned from 25 Years of Experimental Research?", where she noted that a lack of female colleagues became troubling to her shortly after she achieved tenured status.

Seeing this lack of role models and colleagues for women economists, she began work on encouraging younger colleagues. In 2013 she received the Carolyn Shaw Bell Award, given annually by the American Economic Association Committee on the Status of Women in the Economics Profession, for her work developing and participating in mentoring programs for women assistant professors. Things have changed in her years as an economist, Eckel said, adding, "This is a great time to enter the profession as a woman."

Panelist Anne Rathbone Bradley had a similar perspective. Both as a JMU undergraduate and a George Mason University graduate student, she found herself in a distinct minority as a woman specializing in economics. "It's so different now from when I started," she said. Bradley currently is the Academic Director at The Fund for American Studies and serves as Vice President of Economic Initiatives at the Institute for Faith, Work and Economics in addition to holding teaching appointments at GMU and Grove City College.

Panelist Karen Bourne, who graduated from JMU in 2012, said that although she was only one of a few women economics majors in her graduating class, she had women economics professors as good role models at JMU and found a job placement suited to her interests. Bourne is now a senior manager at Grant Thornton in northern Virginia specializing in public sector consulting.

Sasha Naumenko, newly appointed assistant professor of economics at JMU, completed the panel with her perspectives as a recent graduate student. Like the other panelists, she sometimes was in a small minority as a woman in a male-dominated field. Naumenko said that although she experienced some discouraging moments, "It's a great field to be in."

All four panelists agreed that there are large uncertainties, but also unexpected opportunities and pleasant surprises, in economics careers. "Nobody knows" is the rule about the turns that a career will take, Eckel said. "Your career will be a winding road that you can't fully predict," added Bradley.

Thursday's panel was moderated by Angela Smith, associate professor of economics.
Published: Tuesday, September 24, 2019
Last Updated: Tuesday, September 24, 2019