Business
Highlighting the Organization
---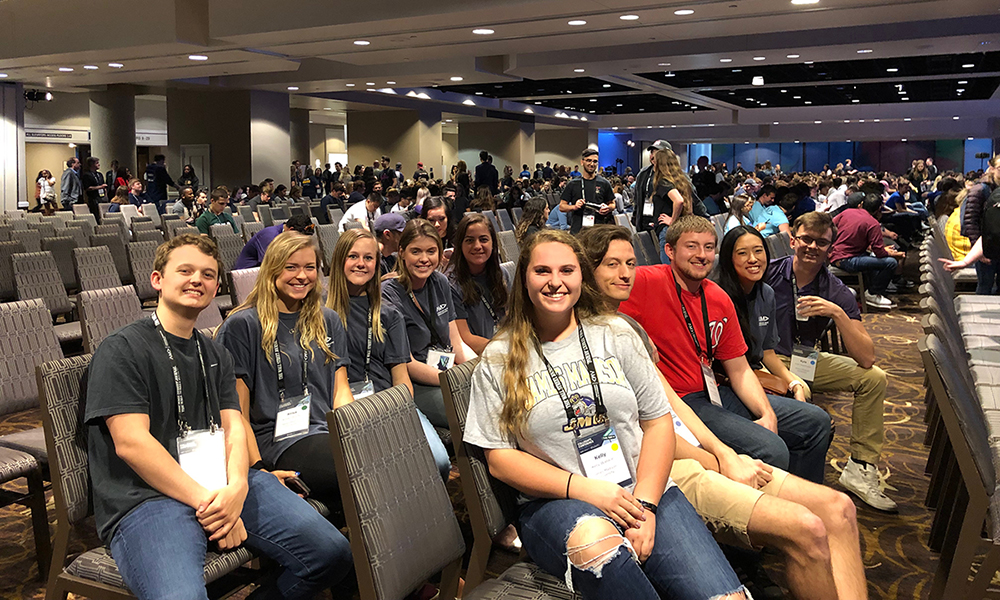 Pictured: Members of the JMU AMA attending the organization's 41st Annual International Collegiate Conference.
---
Many of the educational activities that students participate in at JMU are designed to provide experience in complex problem solving. As such, some of these are longer running programs, often sponsored by one of our many motivated student organizations. A couple of examples of these year-long endeavors follow:
---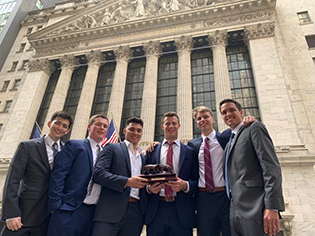 The Madison Investment Fund (MIF) won the Core Portfolio Competition at Quinnipiac University's annual Global Asset Management Education (G.A.M.E.) IX Forum, held March 28-30 in New York City. Some 160 schools and 1500 students were in competition for the various awards.
MIF, the JMU student-run financial management group, has been working since 1999 with an endowment granted by the university—and manages a real-life portfolio of investments. Finance professor Elias Semaan acts as the faculty advisor for the group, which maintains a portfolio of about 30 stocks in diversified areas such as tech, financial energy, consumer discretionary and consumer staple. They landed the all-encompassing award by beating the market for 2018 by 8% and having the best risk-adjusted return.
Kaleb Marshall, sophomore quantitative finance and math double major, acts as COO and manager for financial sector for MIF. He pointed out that the win "is not just from what the current group did, it's an accumulation of all of our efforts since MIF started in 1999. For example, we still have stocks in our portfolio from 2009. Year in and year out we do our best to diligently manage our portfolio and serve as a fiduciary to the JMU endowment. It's great to see our time and effort be nationally recognized."
---
The American Marketing Association at James Madison University (AMA/JMU) and faculty advisor Bob McMillan recently attended the American Marketing Association's 41st Annual International Collegiate Conference in New Orleans.
They had an incredible weekend of diverse professional growth opportunities, including learning from inspiring speakers, attending career-building workshops and networking with companies and the national AMA community.
It was an experience that allowed AMA/JMU to strengthen their professional skills and connections, highlighted by their recognition as a Top 20 Collegiate Chapter out of more than 400 chapters across the country—something they have achieved for 20 years in a row.

In order to be selected for this award, chapters needed to excel in six areas:
Professional Development

Community and Social Impact

Fundraising

Membership

Internal/External Communications

Chapter Operations
Hoping to help other chapters, JMU's incoming president Colleen Price and Krisa Cassidy gave a presentation at the conference about what makes their chapter's professional development so successful.
The AMA/JMU members are excited to grow from their experiences and be even more successful in the upcoming year.
Published: Thursday, May 2, 2019
Last Updated: Tuesday, July 2, 2019