Business
CoB valedictorian's journey to graduation
---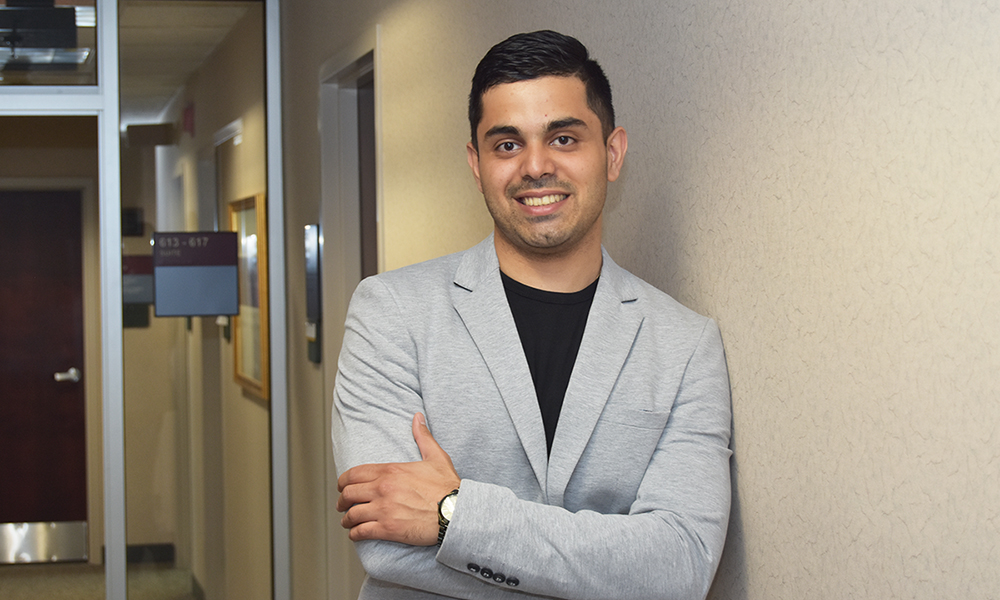 ---
For econ and math double major Abolfazl 'Arash' Sodagartojgi, graduation is a time for excitement—and nervousness. The College of Business valedictorian has been chosen to give the student speech at the ceremony, and the thought of delivering it to a crowd of thousands is on his mind. "I'm really happy and excited to be the student speaker. It's an honor for me," he says, "but I'm nervous as well." 
Like all graduates, he is celebrating the achievement of a dream and the accomplishment of one of life's goals. And like all graduates, there were tough times and challenges to overcome along the way. 
Sodagartojgi was born near the Caspian Sea in Northern Iran in the town of Gorgan, but he and his two younger sisters grew up in Tehran with his father, a supervisor and engineer with the city hall, and his mother, a lawyer. He came to Harrisonburg in 2016 through JMU's partnership with Study Group, a multi-national company specializing in educating international students in host countries. Their International Study Center at JMU is a comprehensive program that emphasizes academics, cultural transition and language acquisition. 
Even with that help, there were difficulties. "I was homesick for a while, and the language barrier was a big challenge," Sodagartojgi explains. "I was really bad with English, so it was a challenge for me to communicate well with people. I was alone for a while because I didn't have that many peers from my country—there was only one other student." 
A further challenge came with the U.S. instituted travel ban, which included the country of Iran. "I couldn't leave the country at all, so I was kind of stuck here. It caused me a bit of depression because I haven't seen my father for four years." Fortunately, his mother was able to secure a visa to attend graduation and witness his speech first-hand. 
"So that has had a big impact," Sodagartojgi continues, "But I always say it this way—it's true that there are difficulties, but there is always a reason I'm here. And those difficulties will not stop me from reaching the bigger goals that I have." 
While at JMU he spent two summers working with the admissions office as a tour guide, sharing his love for the JMU campus and community, where he estimates he gave more than 150 tours. "If I do the math," he points out, "that's right about 1200 prospective students that I got to have conversations with, and got to know them and their parents' perspective. That was really important to me." 
This desire to be a representative of the JMU community was strengthened and fostered by the community giving to him in many ways, one of which was financial aid in the form of scholarships. "Over this past year, we've had these sanctions hitting Iran's economy really hard," he explains. "The exchange rate decreased, and my parents were not able to afford it. So of course, financially it was a big help because I wouldn't have graduated if I hadn't been granted those scholarships. Also, it relieved the pressure I felt, and that helped me to focus on my goals." 
Ever humble, he adds, "Whatever I have achieved so far is because of those scholarships." 
While he may eventually seek an MBA, his immediate goal for the future is to work with data and business analytics. "I owe all my success to JMU," he says, "No matter where I end up in the United States, my home always will be Harrisonburg and James Madison University. It changed my perspective towards life, and I feel like I'm a different person compared to two years ago when I first started here."