CoB Student News
First ever Madison Venture Cup a success
---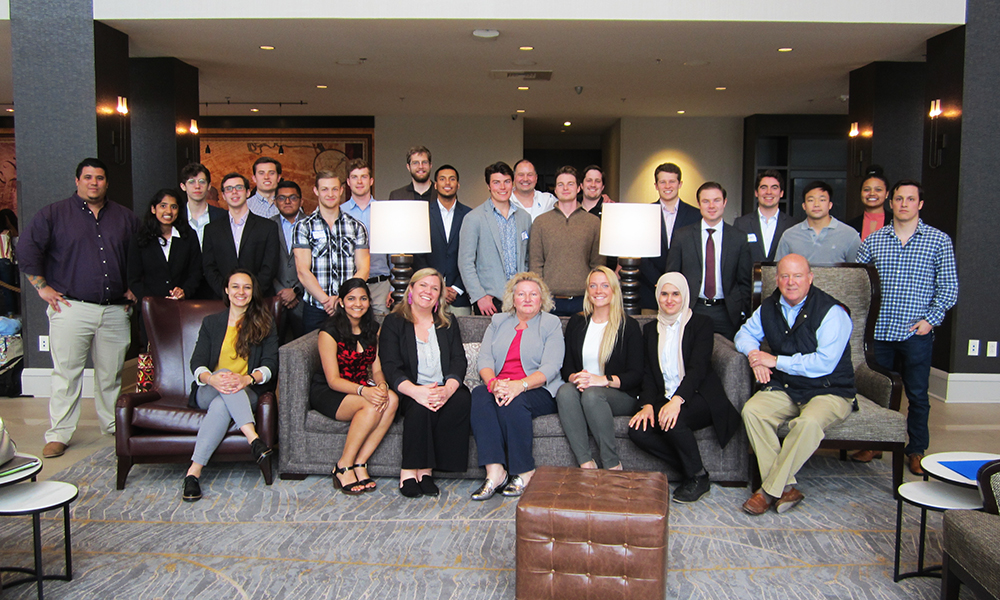 ---
by Tiffany Riggs
It is in the nature of an entrepreneur to create solutions to problems or needs as they arise. This was the case for the student entrepreneurs of the Leslie Flanary Gilliam Center for Entrepreneurship's Madison Venture Group, who aim to educate aspiring entrepreneurs about venture capital principles. They saw a need for an effective venture capital competition for college students, so they decided to create one themselves. On April 6, 2019, the Madison Venture Group's efforts came to fruition during the first annual Madison Venture Cup. The students hosted American University, Liberty University, the University of Virginia and Virginia Commonwealth University to compete for cash prizes provided by corporate partner Lighthouse Labs. 
The event consisted of three rounds, judged by JMU alumnus and entrepreneur Bryan Bostic, JMU and CFE alumni Brett Danielson of BarTrack and Conor Feroce of BeatGig and JMU's own first lady, Mary Ann Alger. The first round consisted of a Q&A session with the founders of BeatGig and BarTrack. The teams probed each company about their business, capital structure, operating models and more before choosing one they would eventually "invest" in. Following lunch at D-Hall, provided by JMU's College of Business, round two involved a "Defense of Investment," where the competing ventures explained their investment choice. The third and final round was the "Negotiation Round," where the owners of BeatGig and BarTrack negotiated back and forth with the teams to reach an agreement on an acceptable term sheet. 
The competition ended with the all-female VCU team winning first place and a $750 cash prize. Liberty University took second place and $500, impressing the judges in the final round and making a significant comeback. UVA won third place and $250, and American University came in fourth and earned $100. The final calculation, based on a 50-point scale, was so close that the difference between first, second, and third place was only one point. 
The Madison Venture Group and the Center for Entrepreneurship received positive feedback from both the competing students and the judges. Judge Bryan Bostic said that the competition was a "great event, great time and extremely well-orchestrated." VCU mentioned how great of a learning experience the competition was for everyone involved. A representative from Liberty University said that the event provided "a foundation to continue to understand venture capital further." Everyone involved in the Madison Venture Cup looks forward to it becoming an annual event. Congratulations to the Madison Venture Group on such a successful event!
Published: Thursday, April 18, 2019
Last Updated: Tuesday, July 2, 2019