Business
Finance Advisory Board Members offer panel discussion
---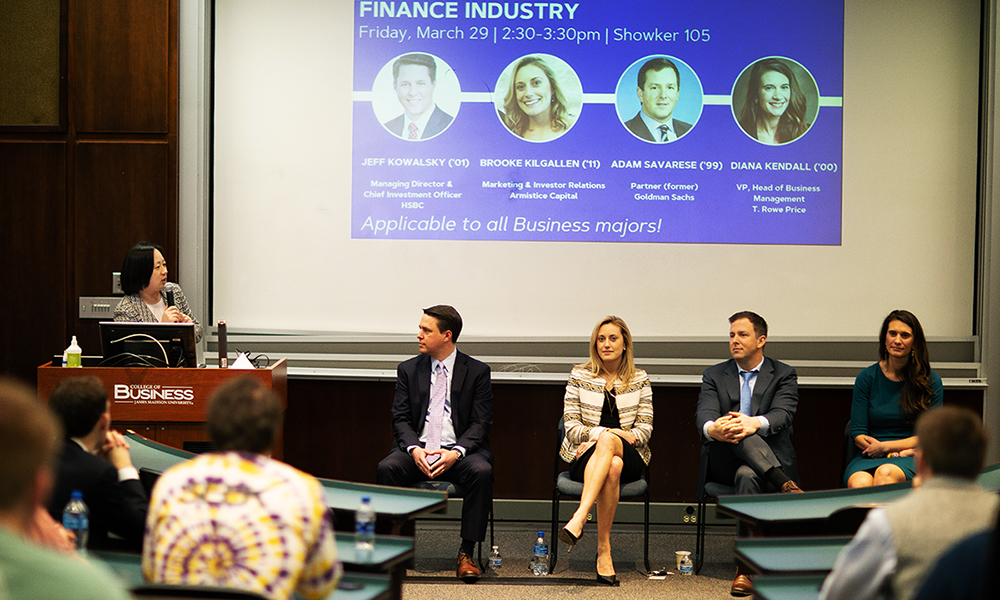 Pictured (L-R). Dr. Hui Sono, Jeff Kowalsky, Brooke Kilgallen, Adam Savarese and Diana Kendall.
---
The Department of Finance and Business Law Executive Advisory Board held its first panel on Business Careers in Finance on March 29, 2019 in Zane Showker Hall, Room 105.  Members of the Executive advisory board on the panel were Diana Kendall ('00), Adam Savarese ('99), Brooke Kilgallen ('11) and Jeff Kowalsky ('01).
Over 100 business majors attended the panel session. Panelists shared their experience entering in the finance field, their views on the future of finance industry, and gave tips on breaking into the field and interview/job search processes.
Students found it beneficial to hear from the diverse group of alumni on their career paths. A few students commented later that they learned the value of continuous learning after college (e.g. obtaining CFA/MBA), and said that they were somewhat surprised to hear about obstacles those successfull alumni had to overcome to get to where they are now.
The Finance and Business Law Executive Advisory Board met for their spring meeting on the same day.