Business
Collaborative symposium tackles the diverse real estate marketplace
---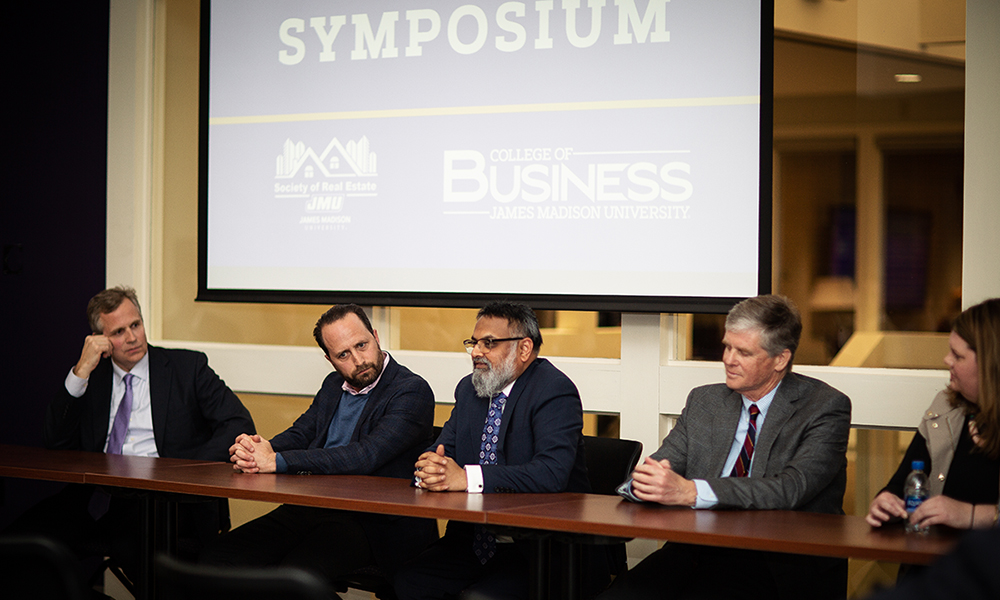 Pictured (L-R): Buddy Gadams, Dave Alperstein, Jay Shah, Ken Ryan and Jodie Strum
---
The Department of Finance and Business Law, the JMU Society of Real Estate and the Development Office partnered to sponsor a symposium on March 26, designed to provide an insider's look at the real estate industry. Drawing from their decades of experience in residential and commercial brokerage, development and financing, the guest panel of JMU alumni outlined current trends and career opportunities in the fast-moving and dynamic real estate industry.
The panel featured:
Dave Alperstein – principal, FD Stonewater
Buddy Gadams – founder, Marathon Development Group Inc.
Jay Shah - VP, Shamin Hotels
Ken Ryan – owner and partner (retired), Van Metre Companies
Jodie Strum – principal, Atlantic Real Estate Capital
Elliott Sellers – alumnus and moderator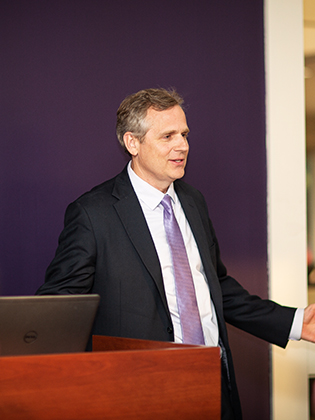 The keynote address was delivered by downtown Norfolk pioneer and developer Buddy Gadams, who is also a recent addition to JMU's Board of Visitors. He graduated JMU with a degree in finance and is the founder of Marathon Development Group Inc. After starting with a four-unit apartment building, he now has some two dozen downtown properties, housing 1,500 apartments, 22 retailers and 100,000 square feet of office space. 
Gadams' latest project, expected to open in late December, is the Icon at City Walk—a 24-story residential building with a rooftop entertainment lounge, spectacular views of downtown and the Elizabeth River, gas stoves, a wine vault, 24-hour gym, and even a coffee bar and jazz lounge. 
"We started the JMU Society of Real Estate with the mission of educating students about the real estate industry, building a network of students and alumni, and preparing members for a career in real estate," said junior finance major Chris Lento, one of roughly 10 co-founders of the society, which began as an official entity in spring 2018. "There are so many students at JMU who want to work in the industry, and the organization serves as a platform to meet other interested students and foster real estate discussions with each other and alumni." The current CoB real estate class is taught by Kemper Funkhouser. 
As the current president of the society, Lento was enthusiastic about the success of the symposium. "It's great to see alumni come back and offer students advice on breaking into the industry," he said. "Given the diversity of the panelists this year, in terms of their respective real estate segments and markets, the students got a wonderful insight into the development, financing, and investment processes."