Business
COB300 students shine at Jackson-Rainey Business Plan Comp
---
Row 1 (L-R): Colin Brechwald, Justin Short, Matt Gricoski and Ed Landherr; Row 2 (L-R): Taylor Wilk, Jaret Butenschoen and Sarah Knecht
---
The annual Competition (J-R) was held on March 15—and this time, it included some special guests in the audience.
Named for and generously funded by Wayne Jackson ('85) and Don Rainey ('82), the 17th annual event is the culmination of a year of COB 300 efforts, with the best business plans developed by student teams during their integrated learning experience given a chance to compete for honors and cash prizes. For the past six years, Jackson and Rainey have been joined in their philanthropy by Katherine Ferguson ('04), who created and funds the 'Ferguson Top Female Leader Award.' 
Scholarships in excess of $25,000 are awarded, and the competition provides students the opportunity to practice their pitching skills at an event similar to a venture capital fair, giving them valuable experience and a boost in confidence.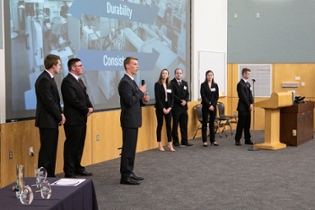 This year's event began with opening remarks from COB 300 coordinator Fernando Pargas followed by a greeting from Don Rainey. After last year's winners, BarTrack, shared an update on their progress and successes, this year's finalists took turns with their presentations. Following a pause for hors d'oeuvres and networking, the awards were handed out to the excited participants. 
The five student teams were:
1st place - Safe&Sound, a company that manufactures a fashionable safety bracelet with the intent to reduce the staggering rate of young woman sexually assaulted in the United States;
2nd place - PitStop, a full-service commissary that offers a variety of services to make maintaining a food truck much more convenient;
3rd place - GrandPack, a general partnership that provides a customizable activity-oriented care package for senior family/loved ones receiving care;
4th place - HydroCirc Solutions, which specializes in manufacturing water pumps for livestock water systems; and
5th place - LyfeSaver, a company that will design and manufacture a charging adapter that protects lithium ion batteries in a host of different devices. 
LyfeSaver took the Team Award, and the individual MVPs were: Patrick Cottrell from GrandPack; Trent Howard from LyfeSaver; Sarah Knecht from Safe&Sound; and Taylor Wilk, also from Safe&Sound. Morgan Cox from PitStop took home the Ferguson Top Female Leader Award, and the Accenture Innovation Award for best idea was given to HydroCirc. 
The 2019 semi-final round judges were William "Braun" Jones, Russell "Rusty" Shepard, Scott Phillips, Steve Bishard, and Phillip St. Ours. 
The distinguished panel of final judges this year included: Don Rainey, chief judge and general partner of Grotech Ventures; Steve Bishard, co-founder of Bishard Homes; John Connor, founder of Ethos Group; Katherine Ferguson, senior vice president of business development at Cooley LLP; Braun Jones, CEO of AsiAmerica; Russell "Rusty" Shepard, president and CIO, Angel Park Investors I LLC; Mike Ritter, president of MFR Consulting LLC; Justin Quaglia, SVP of high yield bond trading at Oaktree Capital Management; and Phillip St. Ours, an investor and entrepreneur.
In conjunction with the J-R event, JMU's Madison Investment Fund invited local high school students affiliated with FBLA and DECA to a day on campus that started a with a lunch and a Madison Investment Fund activity, and culminated with a chance to sit in the audience and watch the final teams present their pitches to the judges. The added energy in the room made the event even more special for participants—and the audience.