JMU in the Community
Simulated international marketplace held at JMU
---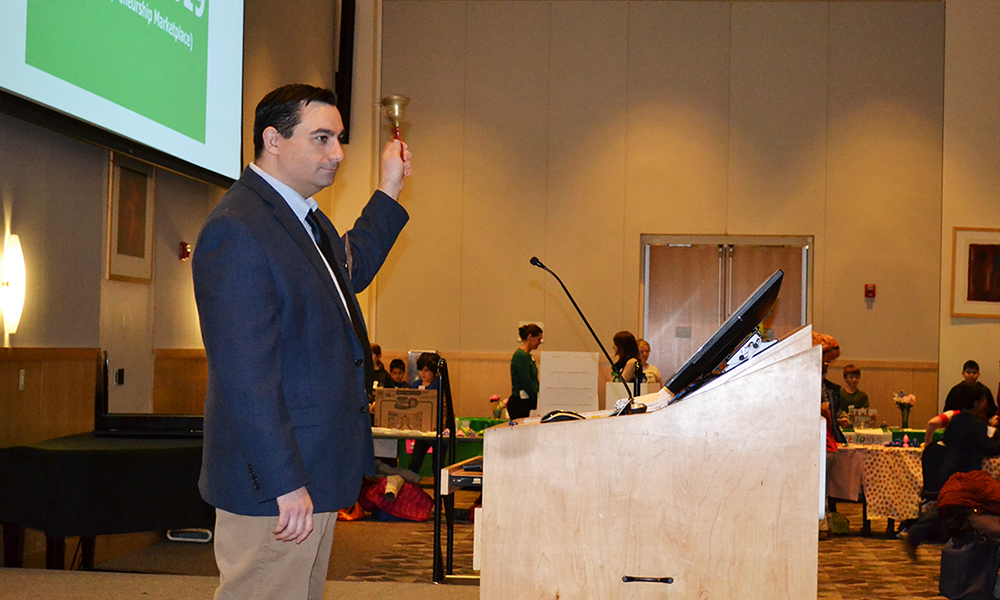 ---
A simulated international marketplace for more than 200 local elementary and middle school students was held March 6 at 10 a.m. at JMU's Festival Conference Center - with new leadership.
This year the Global Entrepreneurship Marketplace Fair (GEM Fair) introduced a new market master, John Kruggel of the JMU Center for Economic Education. Kruggel succeeds longtime market master Lynne Stover, who retired from active service at JMU in 2018.
"We're excited about having John lead the market this year," said Dr. William C. Wood, director of the JMU center. "This is a transition of sorts, in that we'll have the first market master who was not an original founder of the GEM Fair."
Stover and the GEM Fair's original market master, Martha Hopkins, both were on the committee that planned the first GEM Fair in 1998.
The GEM Fair is presented by Union Bank & Trust. Local support for economic education is coordinated by Shenandoah Valley Economic Education, Inc., a local nonprofit organization that promotes economic literacy outreach in area schools.
The students brought products they made as part of a classroom simulation, the Mini-Economy. Each classroom formed a society with a student-chosen name, currency and governing system.
For the GEM Fair students use a common currency, the GEM, patterned after Europe's monetary unit, the euro.
In addition to the common trading session there were awards for:
Best product
Best marketing strategy
Outstanding Young Entrepreneurs of the Year
Best currency design
Best essays
Local support and training for Mini-Economy teachers is coordinated by the James Madison University Center for Economic Education.
Headquartered in Richmond, Virginia, Union Bankshares Corporation (Nasdaq: UBSH) is the holding company for Union Bank & Trust, which now has 155 branches and approximately 200 ATMs located throughout Virginia and in portions of Maryland and North Carolina.