College of Business
Engaging the community in a day of service
---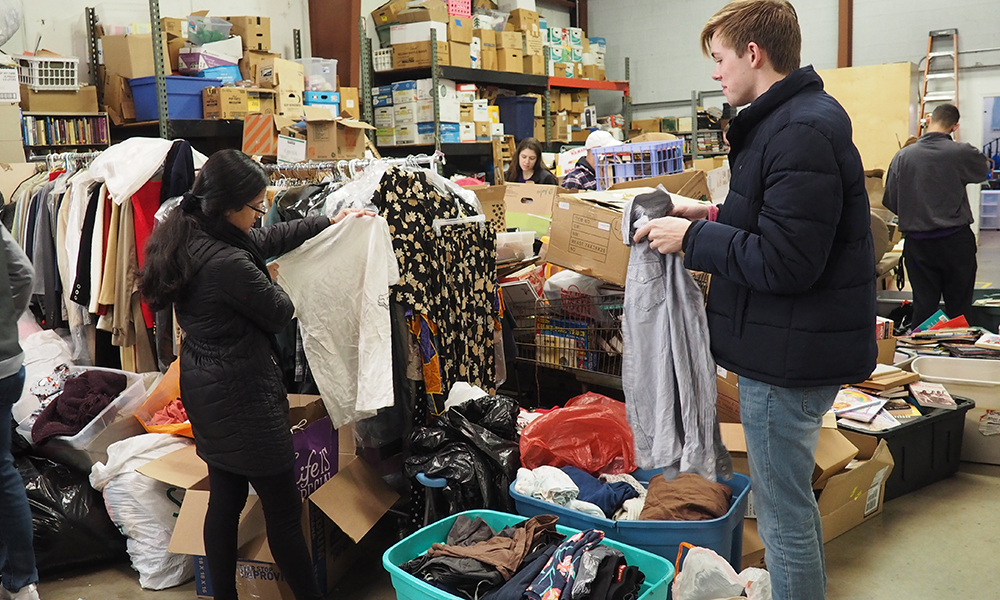 SUMMARY: On a brisk day that tied record low temperatures, students, volunteers, faculty and staff came out to honor Martin Luther King Jr. as the College of Business hosted its 4th annual Day of Service.
---
While the University was technically closed for the holiday, hundreds of participants made donations, tangible and intangible, to help make the day a success.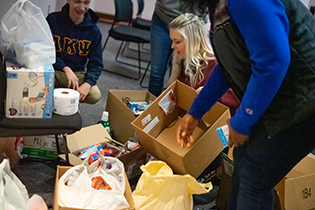 In addition to a coat and non-food personal items drive, the event featured new ways to engage with and have a positive effect on the community, both locally and further afield. Donated books were collected for the Massanutten Regional Library, and volunteers made dog toys for the local SPCA. A room was also set aside for Operation Gratitude, where students wrote brief thank you notes to service members who are overseas, and management professor Bob Kolodinsky brought a group off-campus to the Mercy House Thrift Store to help process and organize donations. Another group, led by BLAW/IB professor David Parker, went downtown to hang posters for Skyline Literacy.
 While any student can participate, for the first time, some 14 students from outside the CoB joined in as well. Diversity Council member and Associate Dean for Human Resources and Administration Kim Foreman was enthusiastic about that, saying, "We were excited to broaden participation across more of our campus this year." Ten organizations lent a hand in planning or volunteering for events, including SHRM, Beta Alpha Psi, SAC, CoB Diversity Council, Phi Sigma Epsilon, Sigma Iota Epsilon, ME, ACSM, FMA and SRE.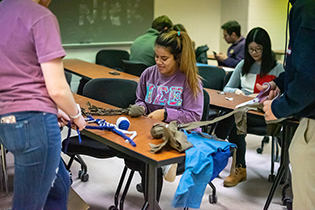 Returning again was corporate partner Dixon Hughes Goodman, which has provided volunteers and support for all four years of the event. Joining the effort as a new partner this year was CommonWealth One Federal Credit Union, which provided pizza, water and t-shirts for participants. 
Foreman captured the feeling of engaging the community, saying, "At the end of the day, we were all thankful for having been a small part of something so very important. As Dr. King once said, 'Everybody can be great….because anybody can serve. You don't have to have a college degree to serve. You don't have to make your subject and verb agree to serve. You only need a heart full of grace. A soul generated by love.'"